Posted: 09 March 2006
AccesScience '06 Unravels Scientific Research
Dublin: Biodegradable plastic, cancer sniffing canines, how memories are formed and the nasty bug behind lung disease in foals. These were just some of the research topics described by this year's AccesScience finalists. This small flavour of the best of Irish science was enjoyed by almost 300 non-scientists who flocked to UCD's O'Reilly Hall last night to hear science explained without jargon.
Mr Pat Kenny once again hosted the event which challenges postgraduate research students to explain their work in simple english. The six finalists endured a gruelling process of internal heats to make it to the grand final of the competition which is now its eleventh year. The researchers faced the scrutiny of a star-studded celebrity panel that included the legendary GAA pundit Michael O'Muircheartaigh, TV3 entertainment news anchor Claire Byrne, RTE radio and television presenter Shane O'Donoghue and Jenny Kelly, producer and presenter on Today FM.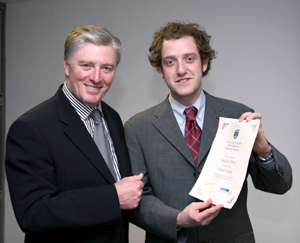 Pictured: PhD student Stephen Nolan, winner of AccesScience 06 which took place Tuesday March 7th in the O'Reilly Hall UCD. Stephen took first place for his ability to explain his research without using science jargon. With him is Mr Pat Kenny who hosted the event.
Stephen Nolan, UCD School of Biomolecular and Biomedical Science and Conway Integrative Biology, took first place for his revelations on 'Kidney Disease: When Good Cops go Bad' and Aidan Farren, a 5th year pupil from Scoil Mhuire in Buncrana emerged as overall winner in the poster competition for the best visual representation of science with his entry, 'DNA Professor'. The primary poster category was won by fifth class student Laura Biddulph and Kate Hedigan of UCD Conway Institute took top prize in the adult category. Over 100, 000 daily DART commuters will soon see these posters and three runner-up entries in trains and stations as part of the Science Track poster series.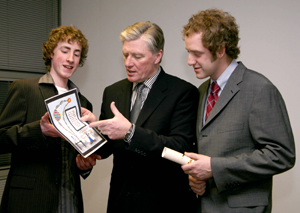 Pictured: UCD Conway Institute PhD student Stephen Nolan and Adrian Farren 5th year pupil at Scoil Mhuire, Buncrana receive their prizes from Mr Pat Kenny at AccesScience 06. Stephen took first place as best speaker while Aidan emerged as secondary category and winner in the poster competition for best visual representation of science.
"Deciding on the winner was virtually impossible". Speaking on behalf of the judging panel, Micheál O'Muircheartaigh admitted they had a tough job picking the winners. He said: "The standard was extremely high and I would like to commend all six speakers on their excellent work and presentation skills". The judges also commended the poster winners whose art work was selected from over 180 poster entries. Pat Kenny made presentations to the prize winners at a reception following the event.
AccesScience Junior, a matinee version of the main event held on Monday March 7th was an enormous success, with over 500 aspiring young scientists from schools across Dublin as well as Donegal and Kerry quizzing the finalists on their research. Kathriona Devereaux, presenter of RTE's popular science programme Scope, hosted the proceedings and the students cast their votes for the person who made their work most accessible; a tougher jury than the celebrity panel but as it transpired the young scientists could spot a winner as their winning votes concurred!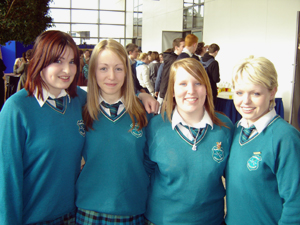 Pictured: Secondary students from St. Paul's, Green Hills enjoying AccesScience junior which took place in O'Reily Hall Monday 6th March.
Discover Science & Engineering, Merck, Sharp & Dohme and AIB UCD Campus Branch kindly sponsored the annual event.