Posted: 14 March 2006
New hope for Tsunami fishermen in Sri Lanka
The Sri Lanka 'Boats Project' was initiated in the wake of the Christmas '05 tsunami disaster to deliver practical help to rebuild communities and local economies of Sri Lanka - one of the areas most affected by the tsunami.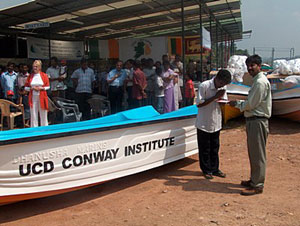 Boat Launch
Twelve months later, fifteen new fishing boats were launched. This was made possible by the dedicated work and fundraising efforts of the Irish-Sri Lanka Trust Fund which included UCD's Dr Chandralal Hewage, manager of UCD Conway Institute's NMR facility. A native of Sri Lanka, Dr Hewage lost thirty friends and relatives in the Tsunami disaster. As a Sri Lankan living thousands of miles away from home, he felt the need to do something that would help the tsunami victims. The Sri Lankan coastline is dotted with fishing towns similar to Howth, Kilmore Quay and Killybegs, many of which were wiped out by the tsunami and the majority of their fishing fleets were destroyed.
Dr Hewage concentrated some of his fundraising efforts in UCD Conway Institute. Staff and students responded by organising the Conway International Evening to contribute to the general collection and to source sponsorship from associated businesses and communities. Seapoint Rugby Club and Jennings Truck Centre were among the major donors. Suppliers to the Institute were also generous in their response – in particular Sigma-Aldrich Ireland who agreed, from the start, to fully fund the cost of a boat. The International Evening which included food, music and entertainment from around the globe was a great success and raised enough to fund four boats! These included: UCD Conway Institute, Sigma-Aldrich Ireland, Broadford Estate Ballinteer and St. Attracta's Junior School Ballinteer.
As part of the Ireland-Sri Lanka Trust Fund, to launch fifteen boats at a special ceremony in the Dhanusha Marine boatyard in Colombo, Dr Hewage returned to Sri Lanka during the Christmas break to attend the memorial services for the victims of the tsunami disaster. The boats are fibreglass one-day boats fitted with 15 HP Yamaha outboard engines and are ideally suited to the smaller fishing villages of this area. Among the fifteen were four boats, the funding for which was raised via UCD Conway Institute's International Evening and associated fundraising efforts.

Dr Hewage would like to thank everyone who contributed to the Boat Project. "The sympathy, enthusiasm and generosity displayed by so many people so far removed from Sri Lanka in achieving such a practical and worthwhile result has been well appreciated by the recipients of the boats" he said.