Posted: 15 March 2006
The Life and After–Life of P.H. Pearse
Pádraig Mac Piarais: Saol agus Oidhreacht
Conference - April 28 - 29, 2006.
To commemorate the ninetieth anniversary of his death, University College Dublin will host a conference to re-examine the life and legacy of P. H. Pearse. It will look at the significance of Pearse as an educationalist, journalist, Irish language advocate, short story writer, radical thinker and militarist.
The conference will be run jointly between the UCD School of Irish, Celtic Studies, Irish Folklore and Linguistics and the Humanities Institute of Ireland, UCD.
Keynote speakers:
Professor Declan Kiberd (School of English and Drama, UCD)
'Patrick Pearse: Irish Modernist'
Dr Angela Bourke (Scoil na Gaeilge, an Léinn Cheiltigh, Bhéaloideas Éireann agus na Teangeolaíochta UCD)
'"An Tír ina mBíonn sé ina Shamhradh i gCónaí":
The Imagined Community of Pearse's Short Stories'
Dr Joost Augusteijn (University of Leiden)
'Explaining the Development of Patrick Pearse's Political Thinking'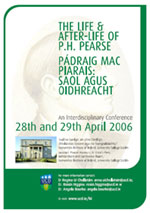 Conference Poster
The conference will take place on 28th and 29th April 2006 and will be held in the Humanities Institute of Ireland, UCD and The Pearse Museum, St. Enda's Park, Rathfarnham, Dublin 16.
For further information visit: www.ucd.ie/hii
Contacts:
Dr Roisín Higgins: roisin.higgins@ucd.ie,
Dr Regina Uí Chollatáin: anna.uichollatain@ucd.ie,
Dr Angela Bourke: angela.bourke@ucd.ie.