Dermot Gleeson joins UCD School of Law as Adjunct Professor
Posted: 01 March 2007
One of the country's most distinguished barristers, Dermot Gleeson has joined UCD School of Law as Adjunct Professor.
Gleeson served as Attorney General from 1994 -1997. His former appointments include his membership of the board of the National Museum of Ireland. He was Chairman of the body which advised the Irish Government on salaries for Ministers, Judges and Senior Civil Servants. He is currently non-Executive Chairman of Allied Irish Banks, a member of the board of the Gate Theatre in Dublin and Chairman of the Irish Council for Bioethics. He also acts as Ombudsman for De Beers in their relations with the 100 largest diamond merchants in the world.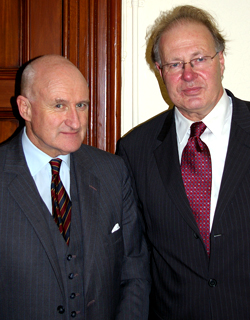 Dermot Gleeson and Professor Paul O'Connor, Dean of Law, UCD
His principle areas of practice are commercial law and constitutional law. He graduated from UCD with a degree in Economics and Politics and a Master's degree in law. He has appeared in many of the most important cases in the 1980's and 1990's. Mr Gleeson has prepared a schedule of classes and has participated in a staff seminar on the relationship between the legal academy and the legal practitioner.