US Philosopher awarded UCD Ulysses Medal
Posted: 05 March 2007
Hilary Putnam, one of the most influential and prolific American philosophers of the past fifty years, has been awarded the UCD Ulysses Medal, the highest honour that the university can bestow.
A foundational thinker in philosophy, Prof Putnam, who is 80 this year, has consistently battled against all kinds of philosophical imperialism. He has exposed flaws in the views that insist on "one and only one" way to describe the world. And, because he exposes his own views to the same deep scrutiny and analysis that he does others, he has a reputation for frequently changing his own position. This capacity for self-analysis led him to embrace his ethnic origins in his 70s, when, after a lifetime of secular socialism he underwent Bar Mitzvah.

Prof Putnam presenting the UCD Ulysses Medal Lecture titled
"The Fact/Value Dichotomy and its critics" at UCD on 5th March 2007
Among his original contributions to philosophy, Putnam was the first to attempt to model the mind on that of a computer. He also developed "quantum logic," a comprehensive theory of meaning for natural languages, and arguments for and against various kinds of realism. He has written 12 books and more than 200 academic articles on a broad array of philosophical subjects.
Fellow philosophers have compared Putnam to Bertrand Russell "…not just in intellectual curiosity and willingness to change his mind, but in the breadth of his interests and in the extent of his social and moral concerns."
Putnam's father Samuel completed the first translation of Don Quixote into contemporary English in 1948. In a 1947 account of the Putnam family's time in Paris and the literary scene of the self-imposed exiles of the 1920s and 30s, Putnam's father tells that he and his fellow exiles, such as Ezra Pound the associate editor of the New Review, belonged to the generation of literary émigrés in France who 'fled the America of Harding and Coolidge and the Bible Belt…in order that they might be able to devote themselves to questions such as '…James Joyce and 'the interior monologue'.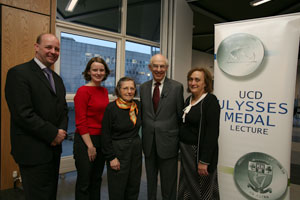 Pictured at the UCD Ulysses Medal Lecture (left to right): Dr Philip Nolan, Registrar, UCD; Helen Kenny, UCD School of Philosophy; Prof Ruth Anna Putnam, Wellesley; Prof Hilary Putnam, Harvard; Prof Maria Baghramian, UCD School of Philosophy
Prof Putnam delivered a public lecture titled "The fact/value dichotomy and its critics" at UCD on 5th March 2007. After the lecture he was presented with the UCD Ulysses Medal in recognition of his outstanding lifetime contributions to the world of philosophy. Presenting the medal, Dr Philip Nolan, Registrar, UCD said: "When I was a student grappling with the true sense of facts and meanings, a Professor of Anatomy advised me to read Putnam's writings. They were inspirational. So it is a particular honour for me to present Prof Hilary Putnam with the UCD Ulysses Medal."
On 11-14 March 2007, the world's leading philosophers will gather at an international philosophy conference at UCD to honour Putnam's 80th birthday.
Prof Hilary Putnam is an Honorary Visiting Professor in the UCD School of Philosophy.
Hilary Putnam
Putnam received his Ph.D. in 1951 from UCLA, where he worked with the eminent German philosopher and logician Hans Reichenbach. His early academic career was at Northwestern (1952–1953) and Princeton University (1953–1961). His distinguished academic career continued in MIT (1961–1965), where he was Professor of the Philosophy of Science and a close colleague of Prof Noam Chomsky. He moved to Harvard where he was Walter Beverly Pearson Professor of Modern Mathematics and Mathematical Logic and is currently the Cogan University Professor (Emeritus) in the Department of Philosophy.
Putnam is a Fellow of the American Academy of Arts and Sciences and a Corresponding Fellow of the British Academy; he also was a president of the American Philosophical Association (Eastern Division). He is the recipient of numerous awards and distinctions and has delivered a large number of prestigious lecture series, including the 1975-76 John Locke Lectures, Oxford, the 1985 American Philosophical Association's Carus Award Lecture and the 1990-91 Gifford Lectures, University of St. Andrews.
The UCD Ulysses Medal has also been awarded to:
1. Author, Edna O'Brien
2. Nobel economist, Professor James J. Heckman
3. Dr Phillip Sharp, Nobel Laureate
4. Professor Klaus Schwab, founder and executive chairman of the World Economic Forum


Roundtable on Externalism
Mon 12 Mar @ 6pm, Clinton Auditorium
Speakers:


Chair & Contributor: Michael Devitt (CUNY)
Tyler Burge (UCLA)
Saul Kripke (CUNY)
Hilary Putnam (Harvard)
Audio Podcast:


(filesize: 22.6 MB, duration: 49:23)