US Supreme Court Justice engages in Q&A session at UCD
Posted: 08 March 2007
Justice is not just about deterrence but also about punishment, declared US Supreme Court Justice Antonin Scalia at a frank questions and answers session at O'Reilly Hall, UCD. The theatrically-engaging conservative skillfully charmed an audience of more than 600 people at the 96th session of the UCD Law Society on 5th April.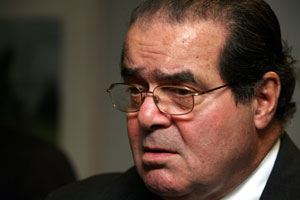 US Supreme Court Justice Antonin Scalia, who lectured on judicial activism at UCD in March 2007
Widely regarded as the most controversial member of the US Supreme Court, Scalia has served for more than 20 years. President Regan nominated him to the Supreme Court in 1986. As the first Italian American appointed to the Court, many view his professional success as an example of the "American dream."
During his lecture on judicial activism, he told the audience that although he was not particularly happy with the infusion of the political appointment and confirmation process of judges to the Supreme Court, if the Court continues to make moral judgment, then he considered it preferable to the alternative. "Judges will be made politically accountable," he said.
According to Scalia, in the US there is increasing emphasis on the "judge as moralist." But the State does not have to forgive. Individuals have to do that. The State could not survive that. "Rulings are a question of what justice demands."

US Supreme Court Justice Antonin Scalia (right), who lectured on judicial activism at UCD in March 2007, with the Chief Justice, Mr Justice John Murray, and Dr Hugh Brady, President of UCD
Scalia, a father of nine, was born in Trenton, New Jersey on 11th March 1936. He is a second generation American with an Italian heritage - his father, who was a Professor of Romance Languages, emigrated from Sicily. An active Catholic, Scalia completed his undergraduate studies at Georgetown University before attending Harvard Law School where he was editor of the Harvard Law Review.
A pursuant of strict interpretation of the text of the US Constitution, Scalia believes that human rights are too fundamental to be decided through the law courts in a manner in which legal opinion forms from consistency with earlier decisions.

US Supreme Court Justice Antonin Scalia (centre) accepting a certificate to mark his appointment as Vice-President of the UCD Law Society from Sean Tracey, Treasurer, UCD Law Society (left) and Richard Mulrooney, Auditor, UCD Law Society (right)