Minister Dempsey announces appointment of CEO at the National Digital Research Centre
Posted: 30 March 2007
Noel Dempsey TD, Minister for Communications, Marine and Natural Resources, has announced the appointment of Ben Hurley as Chief Executive of the National Digital Research Centre (NDRC) on 30 March 2007.
The NDRC, an independent company founded through collaboration between a consortium of third level institutions that was successful in securing the Government's support, will create value by translating innovative research into commercial potential. With a strong mix of public and private partners, the NDRC will adopt a highly practical and collaborative approach to drive the value of research and its commercial applications, all "under one roof".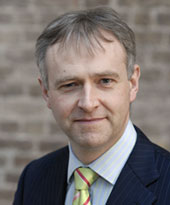 Ben Hurley, Chief Executive of the National Digital Research Centre (NDRC)
Making the announcement, Minister Noel Dempsey, T.D. said: "The NDRC has a unique opportunity to unleash innovation potential in Ireland and foster the digital media sector. It is important that Ireland takes advantage of the commercial and societal benefits of new digital technology".
The Minister also welcomed the appointment of a highly experienced board at the NDRC consisting of senior academics as well as seasoned executives from leading technology companies in Ireland.
The new CEO Ben Hurley brings 20 years senior management experience in the ICT sector to the NDRC, having previously held several Chief Executive and other senior roles with companies including Innovada, Broadcom, Sepro, and Ericsson. He has extensive experience in technology "start-ups", having worked in entrepreneurial capacities spanning both commercial and technological responsibilities with innovative enterprises from start-up to varying stages of maturity and exit. Ben is a graduate of Trinity College, Dublin (BA Comp Sci, MSc Comp Sci) and UCD (MBA).
Speaking at his appointment, Ben Hurley, CEO, NDRC said: "I am very enthusiastic about working with such an experienced and progressive group of key industry and academic players, and my role in leading the NDRC to address this important challenge. It is important for Ireland to have a national focal point to address the gap between research and commercial potential in digital media technologies, and I believe the NDRC is positioned to do just that".
The NDRC will be located in the Digital Exchange building at the Digital Hub, Dublin 8 and will begin working in projects in the coming weeks.
About NDRC
Founded in 2006, the NDRC mission is to create value by translating innovative research into commercial potential. It will provide a national focal point to address the gap between research and commercial potential in digital media technologies. The NDRC was developed by a consortium of third level institutions including Dublin City University (DCU), Trinity College Dublin (TCD), University College Dublin (UCD), Dun Laoghaire Institute of Art, Design and Technology (IADT) and the National College of Art and Design (NCAD) with the support of the Department of Communications, Marine and Natural Resources. It will operate as an independent organisation. It website is available at www.ndrc.ie