Posted: 28 May 2007
UCD pays tribute to its sports men and women
The commitment and dedication of more than 450 UCD sports men and women from 26 different sports clubs was acknowledged by UCD at the UCD Budweiser Sports Achievement Awards on 25 May 2007.
"With many of our students from various sports clubs triumphant at Intervarsity level, and many others taking on the cream of competition nationally and internationally, it is clear that we have many top quality sportsmen and women representing the university in sport," says Dr Martin Butler, Vice-President for Students. "The multitude of achievements by UCD clubs is not only a testament to their marvelous commitment but also that of their coaches, managers, mentors and club officials.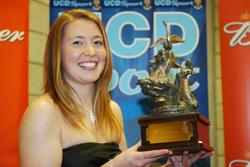 Rena Buckley receiving the Dr. Tony O'Neill Sportsperson of the Year Award
A specially commissioned medal was presented to each of the students to mark their achievements in sport. Among those honoured were:
The Senior Gaelic Football team which won the Dublin County Championship
The Senior Men's Hockey team which secured promotion to the Leinster League Division 1
The Senior Basketball team which won the University
Championships
The Ladies Senior Eight crew which won the National
Championships, University Championships and the Elite Women's Eight event at Henley
The Soccer teams which won the Harding Cup, the Collingwood Cup and the inaugural College and Universities League title
The Ladies Volleyball team which won the University
Championships, the English Student Cup and the Volleyball Association Cup
The Senior Camogie team which won the Ashbourne Cup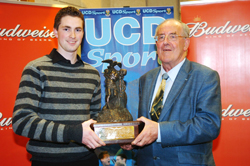 Martin Ryan recipient of the UCD Club Administrator of the Year Award, pictured with Mr. Gerry Horkan, Hon. Secretary of the UCD Athletic Union Council.
A number of special awards were also presented including:
'Dr Tony O'Neill Sportsperson of the Year' which was awarded to the Ladies Gaelic Football and Camogie All Star recipient Rena Buckley.
'Gerry Horkan Club Administrator of the Year' which was awarded to the UCD Equestrian Club captain, Martin Ryan