Astellas USA Foundation Award for UCD Researcher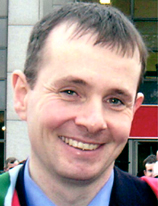 Dr Paul V. Murphy, a senior lecturer in the School of Chemistry and Chemical Biology at UCD and a principal investigator in the Centre for Synthesis and Chemical Biology (CSCB), has received an Astellas USA Foundation award.
Awards from the Astellas USA Foundation are usually based on nominations from internationally distinguished scientists and nominees are subsequently invited to make a formal application to the Foundation.
Dr Murphy's research interests are in carbohydrate chemistry, in particular the design and synthesis of bioactive agents based on carbohydrates. These compounds have the potential to form the basis for new drugs for the development of new therapeutics for HIV, Hepatitis B and C infection, multiple sclerosis, diabetes, arthritis and cancer.
Dr Murphy will use the donation provided by the Astellas USA Foundation for the funding of a PhD student at the CSCB in UCD. This PhD student will engage in the novel synthesis of castanospermine and related compounds. Castanospermine is a polyhydroxylated indolizidine alkaloid natural product with impressive biological activity.
About Astellas Pharma Inc.
On April 1st 2005, Yamanouchi and Fujisawa merged their companies to form Astellas Pharma Inc., which is now Japan's second largest pharmaceutical company and employs 15,500 people worldwide. In Ireland Astellas has manufacturing operations in Dublin and Kerry and a marketing and sales operation in Dublin. Overall Astellas in Ireland employs over 470 people, many of whom are third level graduates. The Astellas USA Foundation is the US philanthropic division of Astellas Pharma Inc. of Japan.
Centre for Synthesis and Chemical Biology
The CSCB is a collaboration in the chemical sciences between University College Dublin (UCD), Trinity College Dublin (TCD) and the Royal College of Surgeons of Ireland (RCSI). The centre was established in Dublin in December 2001 after being awarded €26 million by the Irish Government's Higher Education Authority Programme for Research in Third Level Institutions (PRTLI). Construction of the new CSCB building is now complete and researchers have established working laboratories in the building.