Former President of Ireland, Dr Paddy Hillery, awarded UCD Foundation Day Medal

Dr Paddy Hillery, the man who, long before he was made President of Ireland, set out a vision of equality of educational opportunity as far back as 1963 when he established the comprehensive schools offering both academic and applied subjects open to all pupils within a 10 mile radius, was honoured by University College Dublin and awarded the UCD Foundation Day Medal on Friday 4 November 2005.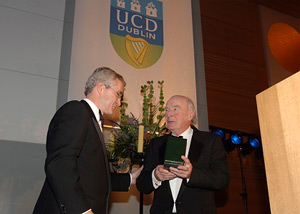 Dr Hugh Brady, President of UCD presents Dr Paddy Hillery, Former President of Ireland with UCD Foundation Day Medal
Speaking of Dr Hillery, the president of UCD, Dr Hugh Brady, said that UCD was singing a belated song to a too long unsung hero of modern Ireland – as well as an outstanding UCD alumnus.
Having given up medicine for politics in 1951 when he became Eamon de Valera's running mate in Co Clare, Dr Paddy Hillery pursued a glittering ministerial career beginning in 1959 under Sean Lemass' "brave new Ireland".
As Minister for Education (1959-1965) he set up the Commission on Higher Education whose report, Investment in Education (1965), was a landmark in shaping Irish education for the rest of the 20th century. His comprehensive schools initiative set the course for Donagh O'Malley's much heralded achievements in the education sector.
After a brief period as Minister for Industry and Commerce he became Ireland's first Minister for Labour in 1965 and saw through the formation of AnCO – the State training agency and predecessor of FAS.
As Minister for External Affairs in 1972 he negotiated Irish membership of the European Economic Community (EEC). "So much of how we live and prosper today stems from that move over thirty years ago." Said Dr Brady. "And as Ireland's first EEC Commissioner for Social Affairs he pioneered the European Social Fund and might even be described as a proto-feminist for his famous policy initiative to force EEC member states to give equal pay to women."
Dr Paddy Hillery became President of Ireland in 1976 and when he left office after two terms in 1990, he was widely applauded for his integrity, honesty and devotion to duty.
Paddy Hillery, BSc 1944, MB BCh BAO 1947, DPH 1952, LLD 1962, was presented with the UCD Foundation Day Medal by the President of the University, Dr Hugh Brady, in recognition for his outstanding contribution to the formation of modern Ireland and for his constructive support to his alma mater.
In his keynote address, the Minister for Enterprise, Trade and Employment, Mr Micheál Martin, TD recalled meeting Dr Hillery shortly after he himself became a Government minister in Education & Science.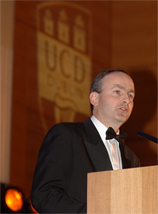 The Minister for Enterprise, Trade and Employment, Mr Micheál Martin
delivering his keynote address at the UCD Foundation Day Event

"Like most people, I had associated him chiefly with the time he served our country with great dignity as our President and, of course, with that iconic image of the signing of our Treaty of Accession to the then European Economic Community. It did not take long in our conversation before I realised that the breadth and depth of his experience in various public offices was extraordinary. I believe that an examination of the record of Patrick Hillery justifies saying that he has had a major and uniformly positive impact on the social, economic and institutional history of Ireland. He deserves to be seen as one of the architects of Modern Ireland – both a leader of change and a force for stability."
Minister Martin recalled the tremendous impact Dr Hillery made as Minister for Education. "Were it only for his time in the Department of Education, Patrick Hillery would be deserving of this evening's honour.
"His creation of the Comprehensive school sector showed the way forward for a diversity of curricular provision under a single school roof. Even more radically, the school leaving age was raised and the process of constructing the case for free second-level education was pushed forward.
By rejecting a "one-size-fits-all" policy in relation to the second-level curriculum, but also insisting on maximising choice at appropriate ages, Patrick Hillery ensured that Ireland avoided many of the worst mistakes in educational innovation seen throughout the developed world. In fact, educational research in other countries is almost unanimous in supporting the key principles which he set out for Ireland in 1960."

Two young graduates receive Foundation Day citations
Aoibhínn Ní Shúilleabháin began her UCD career as an entrance scholar in 2001. She completed her undergraduate studies with a first-class honours BSc degree in Theoretical Physics in the Summer of 2005 and will be conferred with her degree on December 8th next.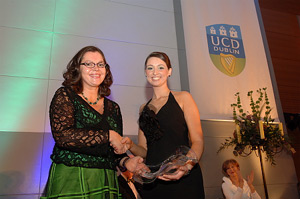 Prof Catherine Godson, Vice President Innovation and Corporate Partnerships UCD presents Rose of Tralee, Aoibhinn Ni Shuilleabhain with UCD Award for Outstanding Achievements in 2005
It was her winning performance at the Rose of Tralee later in the Summer of 2005 that brought Aoibhínn to the attention of the nation. As much as her strength and giftedness of personality, it was her passionate and unapologetic advocacy for science which stays in the memory from that evening. True to form, in her first public engagement as 2005 Rose of Tralee, at the BA Festival of Science in September, encouraged students to pursue careers in science. Delivering the citation, Professor Catherine Godson said: "UCD and Ireland as a whole are extremely lucky to have such an intelligent, attractive and passionate advocate and ambassador for science."
Captain of the all-Ireland Gaelic football champions, Tyrone, Brian Dooher is one of UCD's outstanding graduates who has managed to combine the academic rigours of achieving a degree in veterinary medicine (MBV 1998) with enough talent and determination to win a Sigersen Cup medal for UCD in 1995. In his citation, Brian Mullins, Director of UCD Sport, spoke of the mantle of Cormac McAnallen taken up by Brian Dooher after his tragic death in 2004. "Brian showed his true leadership qualities in the manner in which he led Tyrone to all-Ireland victory this year and there is a crop of fine young student athletes who have taken inspiration from his spirit."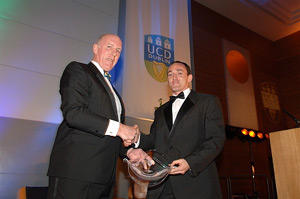 Brian Mullins, Director UCD Sport presents Brian Dooher, Tyrone Football Captain with UCD Award for Outstanding Achievements in 2005