WERRC, university community partnership
programme graduation ceremony

Minister for Education and Science, Mary Hanafin TD, addressed the recent Women's Studies National Outreach Graduation Ceremony in UCD, Belfield where seventy mature women students, aged 30 - 70, from community projects in Ennis Letterkenny, Mullingar, Longford, Arklow, Clondalkin, and Drogheda in Ireland were awarded NUI certificates and diplomas.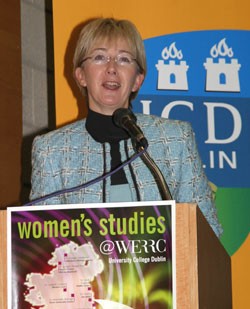 Mary Hanafin TD addressing WERRC Graduation Ceremony in UCD
The Minister said "It is vital for the development of individuals, families, communities and society that more women are supported and encouraged in furthering their education. The opportunities provided here by the Woman's Studies Centre at UCD, as well as those provided by other adult and women's community education providers around the country are of major importance in that regard,". "The promotion and support of a system of life-long learning for people of all ages and backgrounds in our society has, for some time now, been a key part of Irish and European educational policy. Over the last decade the number of mature students entering full-time higher education has doubled to over 10% of full-time new entrants".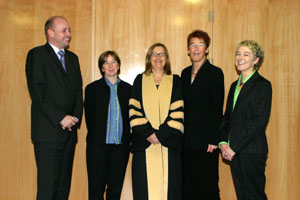 Pictured at the ceremony from L to R: Dr. Dr Philip Nolan, Registrar, Deputy President and Vice-President for Academic Affairs, UCD; Dr Sara Cantillon, Head of UCD School of Social Justice; Prof. Brigid Laffan, College Principal, UCD College of Human Sciences; Ailbhe Smyth, Director, WERRC, UCD; and Aideen Quilty, Co-ordinator, WERRC Outreach Programme.
Women's Studies, UCD, WERRC is at the forefront in developing and delivering fully accredited NUI programmes in outreach mode. Aideen Quilty Outreach Co-Ordinator said "Making University programmes available to mature women learners within their communities successfully addresses the structural barriers to participation at 3rd Level we know this works because our students tell us it does". For most of the graduates this is their first experience of formal educational success, and many of them are the first generation in their family to get a third-level qualification. This is a tremendous achievement for a diverse group of women previously excluded from the educational process. The graduates range in age from their thirties to their sixties or even their seventies, and many of them are going on to complete university degrees in a range of areas.

Ailbhe Smyth Director of Women Studies, UCD, WERRC stated "The chance to return to education and get a 3rd level qualification is vital to each and every woman graduating this evening. It is also vital for the development of
our society and the achievement of equality. The capacity to participate and to contribute actively in the making of the world is a human right. I believe the Women Studies UCD, Outreach programme enhances the opportunities of women often profoundly marginalized to do just that".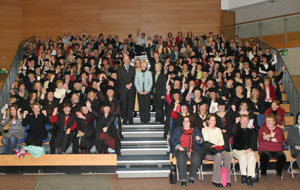 Women's Studies Outreach Graduate Group 2005 celebrating their achievements.
WERRC at UCD initiated the ground-breaking university-community partnership programme 10 years ago, and now provides courses to over 250 women throughout the country each year. These programmes enable women to overcome some of the key barriers to accessing higher education, including child and elder-care, transport, finance and time. These are all very real and powerful factors which prevent women from participating equally in third-level education programmes. The impacts are hardest-felt by women, their families and communities in socially, educationally and economically disadvantaged areas.

WERRC's National University/Community Partnership Outreach programme is widely recognised in state and policy sectors as a provider of excellent, learner centred educational opportunities for disadvantaged and second chance mature women learners. Funded through the HEA strategic targeted initiatives scheme, the programme is the largest of its kind in Ireland.

Currently delivered through sixteen University/Community Partnership Locations nationwide, the programme has over 250 students pursuing fully accredited NUI Certificate and Diploma programmes.
>> More News and Events
<< Back to Home