Photographic exhibition reflects life in UCD through the decades
Since the advent of photography, students and staff have been taking snapshots of life in UCD. But how many of these amateur photographers ever considered that their snapshots would serve as cultural signposts marking the way of development and change?
Over two years ago, UCD Women's Graduates Association asked its members to gather their UCD photographs for a photographic archive they were creating of life at UCD. Having a history of more than 100 years at the university and having members that were always, and still remain, keenly involved in many aspects of life at UCD, it was sure to become a remarkable collection of images.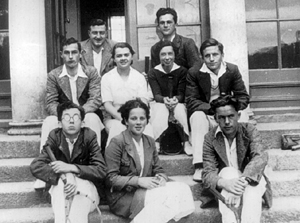 Relaxing at Earlsfort Terrace in the 1930s
The collection titled 'Images of UCD' is now on exhibit in UCD Quinn School of Business, Belfield. The exhibition is open to the public daily (excluding Sundays) until 16th November. Following the exhibition, the photographs will be lodged in the University Archives.
To donate photographs to the collection visit www.ucd.ie/alumni/wga
A sample of the photographs on exhibit include:
1922 - Graduation Day
1930 - UCD Hockey Team
1930s - A Rag Day tableau on a float in Stephens Green
1930s - Engineering students on a Rag Day float in Grafton St
1930s - Engineering Workshop, Merrion st
1934 - On the steps of Earlsfort Terrace
1934 - 'The Yeomen of the Guard' UCD Musical Society
1934 - Blacksmith Workshop – 2nd year engineering students at work
1935 - Graduation BE(Mech&Elec)
1935 - A group of BA graduates on Graduation Day at Earlsfort Terrace
1936 - HDipEd Class, Earlsfort Terrace
1937 - The Crossley Engine, UCD Faculty of Engineering
1937 - 1st year Public Administration Diploma students visiting the furniture factory
1937 - Ceilidhe in Newman House, Stephens Green, to celebrate victory in Fitzgibbon Cup
1942 - Survey Field Trip by Engineering students to Glendalough
1946 - UCD Camogie Team, which won the Ashbourne Cup
1946 - Members of the Archaeological Society on a field outing
1946 - Commerce Rag Day
1948 - UCD Cricket team
1948 - Iveagh Gardens
1948 - History Students' Society Outing
1948 - Striking a set for DramSoc
1948 - Ivor Hooper (goalkeeper) playing on a pitch in Belfield
1949 - BA graduation group in the courtyard at the back of Newman House
1949 - History Students' Society Inaugural
1949 - The programme for the DramSoc production of "Le Bourgeois Gentilhomme"
1950 - UCD Hockey 2nd XI, winners of the Peat Cup, March
1950 - Earlsfort Terrace
1950 - Engineering students on a Field Trip to Germany
1952 - Mech&Elec 4th Year's on a tour of Dusseldorf, Germany
1956 - Boat Club Dress Dance in the Gresham Hotel
1956 - Graduation Day outside Earlsfort Tce
1957 - Pages from "The Student"
1957 - Horticulture Class
1958 - First Year Botany class on a field trip to the Botanical Gardens
1959 - Boat Club Dance in the Shelbourne Hotel
1960 - "Just Taking a Photo" in Stephens Green, at the start of the college year
1960 - Inter-varsity swimming Gala, Iveagh Baths.
1963 - Conferring of an Honorary Degree - President John F. Kennedy, Dublin Castle
1964 - Irish University History Students' Association
1969 - Conferring of an Honorary Degree – Taoiseach, Jack Lynch
1975 - Ladies' Interfaculty Rugby Challenge, Belfield
1978 - GAA team
1990 - Albert Reynolds (Taoiseach), Gregory Peck and John Kelly (Acting UCD President)
1991 - DramSoc. 'A Clockwork Orange'
1991 - Archeology students relaxing on a Field Trip
1998 - John Kelly and the President of South Africa, F.W.de Klerk