Taoiseach launches The Lemass Era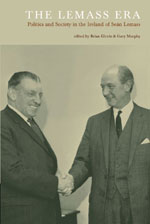 If Eamon de Valera characterised the main features of the first half of the twentieth century, then Seán Lemass is the most formidable influence over the second half:
A new book, The Lemass Era published by UCD Press and launched by An Taoiseach, Mr Bertie Ahern, TD, in Newman House, shows that Lemass was the pivotal figure in the transition from the conservatism of de Valera's Ireland to the more open, progressive and modern society that takes form during the 1960s.
"It is his vision that has prevailed in the modernisation of Irish society and its economic success since the 1960s." said the Taoiseach at the launch.
This new book focuses on the impact of Seán Lemass on Irish politics and society between 1945 and 1973. It covers politics, economic policy, emigration, foreign policy (including the negotiations to join the EEC), cross-border co-operation with Northern Ireland, the Church, education, film and television policy.
Seán Lemass was a 1916 veteran, a founder member of Fianna Fáil and a long serving Minister for Industry and Commerce, but this did not prevent him from ruthlessly questioning the state of Ireland after 1945. During the 1950s he sought to meet the challenge of economic crisis while also attempting to open up discussion on a moderate and realistic policy towards Northern Ireland. However, it was only in 1959 that Lemass had the opportunity to implement his new thinking. He became Taoiseach at the age of 59, but showed a capacity for new thinking and hard work that would have been impressive in a younger person.
The Lemass Era is edited by Brian Girvin. Professor of Comparative Politics at the University of Glasgow and Gary Murphy, Senior Lecturer in Government at Dublin City University.
Published by University College Dublin Press, November 2005
1-904558-29-1 paperback €25 £18.95
Available from the campus bookshop.
>> More News and Events
<< Back to Home