UCD Sports Scholarships announced
At a reception in UCD on 23 November, the Vice-President for Students, Mary Clayton announced the names of the 105 UCD Sports Scholarship recipients for the 2005/2006 academic year.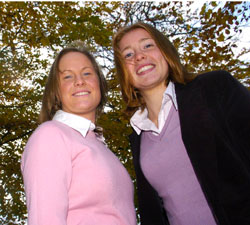 Niamh Herlihy - Hockey (left),
and Riona Buckley - Camogie.
Among this years recipients are:

Handballer Emer Fallon (All Ireland winning medalist and a carded athlete with the Irish Sports Council); Dual player Cathriona Buckley (Member of the victorious Cork sides that won the Camogie and Ladies Gaelic Football All-Ireland Championship in 2005); Camogie player Ciara Lucey (All-Ireland Junior medal winner with Dublin and All-Star recipient in 2005); Women's Soccer player Nicola Sinnott (Current Irish Under 19 International player and vice-captain); Hurler John O'Connor (Wexford Senior Hurling Captain and Leinster Champions in 2004); Rugby player Robert Kearney (Ireland Under 21 World Cup player in 2004, UCD, Leinster and Ireland Senior squad member in 2005).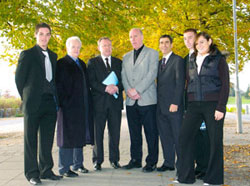 left to right, Scholarship recipient Tomas Brady,Seamus Conaty, Graduate Committee member, Dr. Pat O'Neill, Chairman, Graduate Committee, UCD Director of Sport Brian Mullins, Paul Raleigh, Managing Partner, Grant Thornton, Scholarship Paul McCaffrey, and Camogie Scholarship recipient Ciara Lucey.
In congratulating the recipients on their achievement, the Vice-President reiterated the University's commitment to the development of sport and highlighted the integral role that the scholarship programme has played in enabling UCD sportsmen and women to remain at the forefront in sporting performance nationally and internationally.
In Rugby our first team competes in Division 1 of the AIB League. Eight of this years recipients featured in the successful Annual Colours and League fixture against old rivals Trinity on Friday 11th November. The Colours trophy has been retained for a record 10th year in a row. A number of graduates of the programme are now on provincial contracts including Brian O'Riordan, Brian O'Driscoll, Des Dillon and David Blaney.

In Hockey our Ladies compete in the top flight of Leinster hockey, with many students receiving caps at underage level on provincial and national teams. They recently retained the National Intervarsities title.

In Ladies Soccer the club has claimed three successive victories in the WFAI Cup while also securing the top spot in the Dublin League this season. The club has also represented Ireland at the UEFA Women's Club Championships for the last three years.

In Athletics the club has produced a number of national champions and athletes who have represented Ireland at European, World and Olympic Games, among them David Matthews, James Nolan, Derval O'Rourke and Joanne Cuddihy.

In Hurling the club is the current Dublin Senior Champion. Following the defeat of Oulart of Wexford in last Sunday's Leinster Club Championship semi-final, the team, which features numerous scholarship recipients, will face James Stephens of Kilkenny on November 27th in the Leinster final.

In Men's Soccer the first team has recently retained it's position in the Premier Division of the Eircom League. While the Under-21 team won the Dr. Tony O'Neill Eircom League final last week.

Men's Soccer Under 21's won the Dr. Tony O'Neill Eircom League Trophy for the second year. This gives the club a strong platform to develop players in order to compete at the highest level in senior competitions.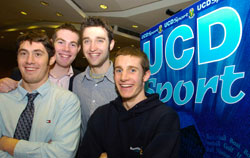 UCD men's basketball scholarship recipients (from left to right), Kevin Foley, Richard Cahill, Conor Meaney, and Barry Drumm.
The scholarship programme, which is in its twenty-sixth year, was instigated by the UCD Soccer Club, under the direction of the late Dr. Tony O'Neill. Following his appointment in 1991 as Director of Sport the programme was expanded to include other sports and now under Brian Mullins' directorship the programme includes Athletics, Basketball, Camogie, Ladies Gaelic football, Men's Gaelic Football, Ladies Golf, Men's Golf, Handball, Ladies Hockey, Men's Hockey, Hurling, Rugby, Ladies Soccer, Men's Soccer and Table Tennis.
UCD Sports Scholarship Recipients 2005/2006
Athletics: Padraig White (Kildare), Joanne Cuddihy (Kilkenny) and Stephen Darcy (Carlow).

Basketball: Richard Cahill (Dublin), Kevin Foley (Dublin) Barry Drumm (Dublin), Conor Meany (Dublin) and Ian O'Boyle (Kildare).

Camogie: Louise Mahony (Laois), Sharon Daly (Offaly), Emily Darmody (Kilkenny), Ciara Lucey (Dublin) Catherine O'Loughlin (Wexford), Catriona Buckley (Cork) and Mary Leacy (Wexford).
Dual: John McCaffrey (Dublin) and Tomas Brady (Dublin)

Ladies Gaelic Football: Grainne Nulty (Meath), Aisling O'hAnnaidh (Wicklow), Nuala O'Shea (Mayo), Jacqueline Shiels (Meath), Marie O'Connell (Galway) and Niamh Duggan (Galway).

Men's Gaelic Football: Stephen Gallagher (Westmeath), Craig Rogers (Laois), Sean Brady (Cavan), Peter McNulty (Laois), James Sherry (Fermanagh), Austin O'Malley (Mayo), Dermot Geraghty (Mayo), John McCarthy (Limerick), John Murphy (Carlow), Mark Delaney (Laois), Paul Kelly (Longford), Cathal O'Dwyer (Meath) and Shane Lennon (Louth).

Ladies Golf: Sinead O'Sullivan (Galway).

Men's Golf: Brendan Walton (Dublin), Ciaran O'Connor (Westmeath), Dara Lernihan (Dublin), Liam Mulligan (Dublin), Niall O'Connor (Dublin) and Ross Dunne (Wicklow).

Handball: Patrick Finnegan (Cavan) and Eimear Ni Fhalluin (Kildare).

Ladies Hockey: Christine Quinlan (Dublin), Jane Bourke (Limerick), Lisa Jacob (Wexford) and Niamh Herlihy (Waterford).

Men's Hockey: Colin Cunningham (Meath), Robbie McFarlane (Dublin) and Rowan Pearson (Dublin).

Hurling: Damian Fogarty (Kilkenny), Paul Ormond (Tipperary), Eoin Quigley (Wexford), Andrew Smith (Galway), Bryan Barry (Kilkenny), Tommy Fitzgerald (Tipperary), Brendan Murphy (Offaly), John O'Connor (Wexford), David Prendergast (Kilkenny), Keith Burke (Wexford), Patrick Nolan (Wexford) and Patrick Morrisey (Tipperary).

Rugby: Robert Kearney (Louth), Killian Lett (Wexford), Brian McGovern (Kildare), David Nyhan (Dublin), Michael Fanning (Dublin), Conor Geoghegan (Dublin), Stephen Grissing (Dublin), Michael Hastings (Tipperary), Morgan Hickey-Crowe (Dublin), Ken Kennedy (Dublin), John Anthony Lee (Dublin), Ross McCarron (Dublin), Kevin McLaughlin (Dublin), Cillian Willis (Wicklow), Conor McInerney (Dublin), David Gilchrist (Dublin), Fergus McFadden (Kildare), Gerard Moran (Dublin), Ian Keatley (Dublin), Jamie Hagan (Dublin), Kevin Sheahan (Dublin), Richard Sweeney (Dublin) and Sean O'Brien (Carlow).

Ladies Soccer: Eimear O'Herlihy (Donegal) and Nicola Sinnott (Wexford).

Men's Soccer: Kieran Harte (Donegal), Seamus Long (Cork), Aaran McEneff (Dublin), Conor Sammon (Dublin), Brian Shortall (Dublin) Conan Byrne (Dublin), Damien Kelly (Kilkenny), David Last (Dublin), Declan O'Donnell (Donegal), Eoin O Cinneide (Dublin), Francis Moran (Dublin), John Brophy (Dublin), Ronan Finn (Dublin), Shane Flynn (Dublin) and Stephen Hurley (Wicklow).

Table Tennis: Ross Cullen (Dublin).
>> More News and Events
<< Back to Home