UCD Ruby and Silver anniversary graduates step
back on-campus.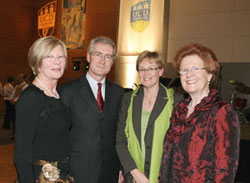 Cliona de Bhaldraithe, President Hugh Brady, Mairead McGuinness and Thelma Doran
The president of UCD, Dr Hugh Brady welcomed back graduates from 1965 and 1980 at a special celebration in O'Reilly Hall on Saturday 19 November. Dr Brady was proud to show off the campus to graduates – many of whom had never studied at Belfield.
He took the opportunity to bring alumni up to date on the new academic structures and UCD's aspiration to be a top European research-intensive university. "we are on our way to realising this goal" the president said. "Our Horizons curriculum has begun to provide our students with a greater range of flexibility and freedom of choice in their learning career at UCD.
UCD researchers led the winning proposal to establish Ireland's first National Institute for Bioprocessing Research and Training; this €75million facility will be the centrepiece of the new Belfield Innovation Park. We also welcome Nobel Laureate economist James Heckman to the UCD staff and the first phase of UCD's Global Irish Institute was realised with the establishment of the UCD William Jefferson Clinton Centre for American Studies at Belfield House and the former University Industry Centre."
Ambassador Thelma Doran spoke to graduates of her memories of UCD in the pre-Belfield era. The Ambassador graduated with a BA in 1965 and followed this with a H Dip in Education the following year. After five years teaching, she entered the Department of Foreign Affairs and after a number of international postings was appointed Ambassador to the People's Republic of China, with concurrent accreditation to the Republic of the Philippines and the Republic of Pakistan in 1991.
She subsequently served as Ambassador to the Republic of Austria, and Permanent Representative of Ireland to the UN and other International Organisations in Vienna (except the OSCE), with concurrent accreditation to the Slovak Republic and the Republic of Slovenia, Ambassador to the Republic of Poland, with concurrent accreditation to the Republic of Lithuania, and to the Republic of Latvia. Last September Thelma Doran was appointed Ambassador to the Kingdom of Norway.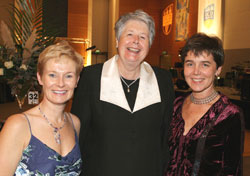 Genevieve Cox, Adelaide Ena Hanlon and Blanaid Hayes
Representing the silver anniversary graduates from 1980 was MEP and BAgrSc graduate, Mairead McGuinness. Elected on the first count at the European Parliament elections in June 2004 Mairead McGuinness secured a massive one out of every four votes cast in the East constituency.
A well-known journalist, broadcaster and commentator she was the first woman to qualify in the discipline of Agriculture Economics at UCD. When local radio was in its infancy she presented a half hour programme - the FBD Farm Show on LMFM. Her stint on local radio coincided with her time as a news reporter with the Irish Farmers Journal.
She went on to present the Ear to the Ground series on RTE television. During the series, Mairead also became Agricultural Editor of the Irish Independent. She later presented the very successful Celebrity Farm on RTE and in November 2004 she was presented with a special award by AIB for her outstanding contribution to agricultural journalism.
Mairead serves on the EU Parliament's Agriculture and Rural Development Committee and also on the Budget and Petitions Committees.
Among the graduates at the Silver and Ruby Anniversary were:
BA graduates: Joe Davy, Davy Stockbrokers, High Court judge, Mr Justice Roderick Murphy, Padraic Gilligan, MD Ovation Group, James O'Halloran, MD of auctioneers James Adams & Sons, teachers Patricia Grogan, Nessa O'Hagan and Niamh O'Hagan,
B Archs: Martin Cotter, Architekturburo Cotter and Felicitas Sauter, Kreissparkasse Ludwigsburg,
BCL: Mary Fenelon, from the Law Society and Patricia Taylor, partner with William Fry Solicitors
BComm: venture capitalist, Frank Kenny, Delta Partners, Finbarr O'Connell, partner with KPMG and former tennis international, Colm Sorensen, MD of Butlers Chocolates.
BE: Noel Kane, chairman of Thomas Garland & Partners, Gerard Fahy, strategy director with Vodafone and Michael Barnwell, regional director, John Sisk & Son.
BSc: John Tobin, consultant psychiatrist and military officer, St Bricins Military Hospital, Frank Hughes, MD Intervent Ireland
BSocSc: probation and welfare officers, Miriam Tallon, Joan O'Brien McNamara and Helena Morrin.
MB BCh BAO: consultant Blanaid Hayes, Beaumont Hospital
MVB: veterinary surgeons, Thomas Cassells and Thomas Dillon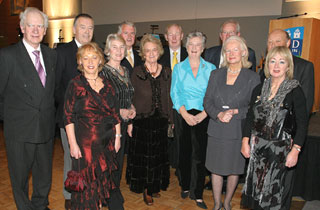 Back row: D.J. O'Driscoll, John Cassells, Tom Cusack, Tom Dillon, Pat Brophy and Prof. Boyd Jones
Front row: Dr. Mona McGarry, Nuala Cassells, Enda O'Driscoll, Deirdre Cusack, Kathleen Brophy and Dr. Yvonne Groarke.
UCD staff celebrate their student years too
Nice to see Mary and Gerry Horkan at the silver and ruby celebrations in O'Reilly Hall on Saturday night. Mary completed her BSocSc in 1965. Gerry, who retired from UCD four years ago, originally did a BE in 1960 and a BComm in 1970. With retirement came the opportunity for Mary and Gerry to study once more and they have recently completed the diploma in genealogy.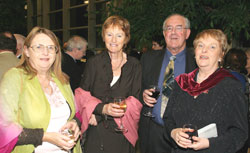 Cara Collum-Mulrean, Sarah Kelly, Gerry and Mary Horkan.
Other UCD people enjoying ruby anniversaries included Patrick Brophy, MVB, senior lecturer in the School of Agriculture, Food Science and Veterinary Medicine, Cliona De Bhaldraithe-Marsh, BA, Head of the School of Languages, Literature and Film, Ann Lenehan, BA, on-campus nurse, John Sheehan, BA lecturer in the School of Economics, Professor James Roche, BagrSc, Professor Paul McNulty, BE, School of Agriculture, Food Science and Veterinary Medicine. Professor Pat Gibbons, BComm, Vice-president for Staff & Administrative Systems, celebrated his silver anniversary with memories and reminiscences of a Faculty of Commerce that bears little resemblance to the UCD Quinn School of Business today.
>> More News and Events
<< Back to Home