Posted: 27 November 2006
Two UCD academics receive gold medals from Royal Irish Academy
Former minister for foreign affairs and emeritus professor of civil engineering at UCD, James Dooge has been awarded a Royal Irish Academy gold medal in engineering sciences. Professor Dooge, who was president of the Royal Irish Academy from 1987 to 1990, is widely regarded as one of the founding fathers of modern hydrology.
Professor Peter Neary, professor of political economy at UCD from 1980 to 31 Aug 2006, has also been awarded a Royal Irish Academy gold medal in the social sciences. Undoubtedly Ireland's most distinguished academic economist and a leading figure world-wide, Professor Neary's main field of research is international trade theory, where he works on trade and industrial policy, globalisation, and competition.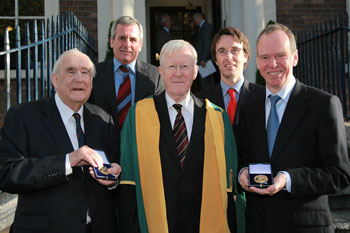 Prof Jim Dooge (left) and Prof Peter Neary (right) receive their awards at an official ceremony in the Royal Irish Academy, Dublin. Also pictured are Mr Michael Kelly, Chair HEA (centre left), Prof James Slevin, President RIA (centre) and Mr Joe Webb,
Deputy MD Independent Newspapers (centre right)
Speaking at the presentation of the awards by President Mary McAleese on 20 November 2006, RIA President, Professor James Slevin said: "Professors Dooge and Neary are among a small elite of academics in Ireland that set the international hallmark of excellence in their fields of study."
Each year, two outstanding academics are awarded Royal Irish Academy gold medals. The medals, sometimes referred to as 'Ireland's Nobel Prizes,' are sponsored by the Higher Education Authority and the Irish Independent.