Posted: 28 November 2006
FitFone wins NovaUCD 2006 entrepreneur award
For its design, development and patenting of a new platform technology which when embedded into a mobile phone facilitates remote health and fitness assessment, FitFone has been selected as the overall winner of the 11th NovaUCD Campus Company Development Programme (CCDP).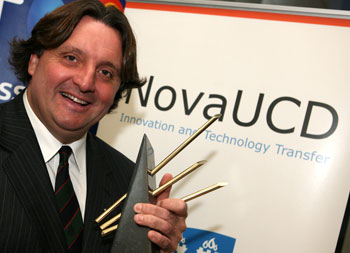 The founder of FitFone, Dr Conor O'Brien winner of the 11th NovaUCD Campus Company Development Programme (CCDP)
The FitFone Exercise Physiology System, grounded in detailed medical and physiological science, is a health and fitness assessment application containing a Global Positioning System embedded into a mobile phone. The System measures an individual's fitness level on the basis of personal statistics (e.g. age, weight and height) combined with the time taken for an individual to complete an exercise such as walking a certain distance. Until now this critical information was not available to the population at large.
This fitness measurement which is available instantaneously via the mobile phone, can be used by the individual and his/her fitness instructor/doctor/coach to design and implement programmes of exercise to improve the individual's fitness. The FitFone device can then be used to monitor the improvements in the individual's fitness levels over time which can result in improved health outcomes and increased life expectancy.
The founder of FitFone is Dr Conor O'Brien, a consultant neurophysiologist and physician in sports and exercise medicine. He was chairman of the Anti-doping Committee of the Irish Sports Council (1999-2005) and is Chairman of the Irish Heart Foundation Council for Exercise and a former Irish Olympic Team doctor.
In the last eleven years over 125 projects and 175 individuals have completed the NovaUCD CCDP. Previous winners include AV Edge, BiancaMed, ChangingWorlds and Vocal Health Screen.
NovaUCD CCDP is sponsored and supported by BT Ireland and Enterprise Ireland. The programme aims to assist academic entrepreneurs in the establishment and development of new business ventures to commercialise the output of their research.
Two other projects participating in this year's NovaUCD 2006 CCDP were short-listed for this year's event and received runner-up awards.
Biontrack delivers software solutions to support protein researchers in industry and academia. Biontrack has developed a software platform called Proline which reduces the complexity involved in and accelerates proteomics' research. The software is very flexible and can be customised to meet each researcher's needs.
Biontrack's promoters are Dr Matt Sullivan and Andreas de Stefani who are based in UCD's Conway Institute of Biomolecular and Biomedical Research. The developed software arose from research funded by Science Foundation Ireland and Siemens in collaboration with UCD. Biontrack is continuing to collaborate further with both Siemens and UCD.
Nanogrind has developed a novel manufacturing processing technology which uses microwave heating as a processing tool for the fabrication of metal (nickel)–diamond composites. These composites have enhanced mechanical performance which can facilitate the fabrication of sub mm-micro tooling for which there is a growing demand in bone drilling and micro-component manufacture in the aeronautical and automobile industries.
The founder of Nanogrind is Dr Denis Dowling, Director of the Surface Engineering Group in UCD's School of Electrical, Electronic and Mechanical Engineering.