Fergal O'Connor O.P.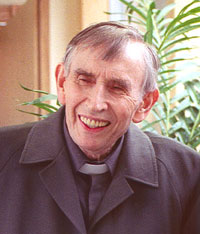 Fergal O'Connor
We have learnt with great sadness of the death of Fergal O'Connor, who lectured in the Department of Politics from 1962 until his retirement in 1992, returning to teach Plato to final year students each year until 1998.
Fergal's legendary Socratic mode of teaching inspired generations of students. While he taught the classics from Plato to Rousseau, his way of opening up these texts enabled him to scrutinise current issues and prevailing assumptions in their light. The number of people who, while representing widely differing ideological and party positions in Irish life, acknowledge his formative influence is testimony to his deep engagement with students' critical faculties.
He was also an example of lived dialogue between theory and practical social engagement. Outside his teaching in UCD, Fergal was deeply committed to social concerns, setting up Ally, an organisation supporting single mothers, and founding a hostel for homeless girls in Dublin. He also contributed to wider public debates through his appearances on television.
An extract from Socrates at his trial might constitute an appropriate epitaph:
I care nothing for what most people care about: money-making, administration of property, generalships, success in public debates, magistracies, coalitions, and political factions… I did not choose that path, but rather the one by which I could do the greatest good to each of you in particular: by trying to persuade each of you to concern himself less about what he has than about what he is, so that he make himself as good and as reasonable as possible (Plato, Apology 36B).
>> More News and Events
<< Back to Home