GARNIVILLE GAELS
PSNI Footballers welcomed to Belfield.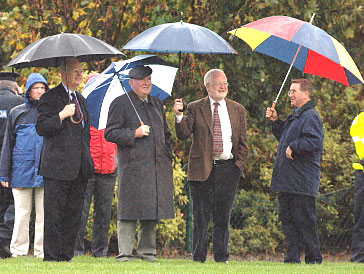 Watching the GAA football match between UCD and the PSNI from (L-R): Minister for Justice, Mr Michael McDowell TD; Councillor Dick Dowling; Moore McDowell, UCD School of Economics and Prof Rodney Thom, Head of UCD School of Economics.
In an historic first the Garniville Gaels, PSNI training college gaelic football team played UCD at Belfield on Tuesday 11th October. The final score of 1:16 to 1:12 reflected the tight fought game played in extremely wet and difficult weather conditions, with the visitors winning a deserved victory in front of a crowd that included the President, Dr Hugh Brady, the Minister for Justice Mr Michael McDowell TD, Superintendent Gerry Murray, PSNI Gaelic Association Club Chairman, Gerry McGrath and hardened UCD GAA supporters who braved the driving rain.
The match was the result of an invitation from Brian Mullins, UCD Director of Sport to Damien Tucker of PSNI Gaelic Athletic Club to mark the inclusion of Garniville Gaels to the Sigerson Cup – the gaelic football competition for third level colleges. The occasion was augmented by the challenge match between UCD hurlers and the Garda Training College, Templemore taking place on an adjacent pitch which ended Garda 0:16 and UCD 1:12.
The game between UCD footballers and Garniville Gaels was robust and competitive with the visitors taking an early lead with a first half goal. Paddy Linnig had a virtuoso performance. He clocked up a series of well-taken points from frees showing that the newcomers should not be under-estimated when they take on the University of Ulster in their next match.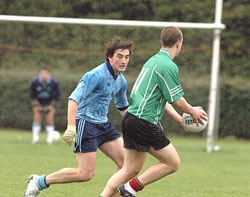 PSNI's Paddy Linnig tests the UCD defence.
Captain of the UCD team, John Murphy (Economics & Finance) from Carlow paid tribute to Conor Fingleton who, despite having a penalty saved by PSNI goalie, scored 2 points for the students. "The game was much more than just about the result" said Brian Mullins. "Sport is a great leveller. It breaches political and other barriers and shows the next generation what can be achieved. We are delighted that UCD hosted the first game of Garniville Gaels in the colleges' competition.
>> More News and Events
<< Back to Home