Posted: 04 October 2006
Expert calls for independent investigation into health effects of Chernobyl
At 1:23am on April 26th 1986, reactor 4 at the Chernobyl Nuclear Power Plant suffered a catastrophic accident. This caused an explosion and fire at the reactor. A nuclear cloud developed which traveled across Europe and contaminated large areas of the Ukraine, Belarus, and Russia. 28 of the clean-up workers died within a few weeks from the effects of radiation exposure, and about 340,000 people were evacuated from the 30km exclusion zone and resettled elsewhere.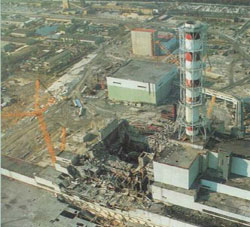 Catastrophic accident at Chernobyl Nuclear Reactor
Two decades later, the ensuing health effects of the Chernobyl disaster remain the cause of considerable scientific and political controversy. Today, there are many conflicting reports on the number of direct deaths caused by the accident and on the estimated number of people who may die as a result of induced cancers and other diseases.
In his keynote lecture entitled 'Chernobyl: Science, and Politics ' at the 6th Annual UCD Conway Festival of Research, Professor Sir Dillwyn Williams expressed the continuing need for a comprehensive independent investigation into the health effects of the Chernobyl disaster.

Professor Janet Allen, Director of UCD Conway Institute with Professor Sir Dillwyn Williams, emeritus professor of histopathology at the University of Cambridge
Professor Williams is emeritus professor of histopathology at the University of Cambridge. He reported a significantly high level of thyroid cancer among children in Chernobyl and the surrounding area after travelling there in 1992 to investigate the incidence of the cancer. "Earlier reports on increased incidences of thyroid cancer in Belarus and Kiev were disregarded, partly because the latent period was wrongly perceived as too short" said Prof Williams. "And those linked to the nuclear industry did not want to believe the findings."
Prof Williams explained that age and exposure to fallout from the accident are key factors in relation to developing cancer as a result of the accident. Exposure after Chernobyl was to radioactive isotopes in fallout, and was very different from exposure after Hiroshima, which was to whole body radiation.
"There is a very low risk of thyroid cancer development in adults after exposure to radiation, however the same assumption should not be made for children," said Prof Williams. "Studies of those exposed to fallout from Chernobyl have shown that the younger the child at exposure the greater the risk of developing thyroid cancer. This is partly due to the higher dose to young children, who drink a lot of milk, and milk is the main route by which radioactive iodine is ingested."
Those who were children at the time of the accident are now young adults, and are still showing an increased incidence of thyroid cancer. "Fortunately the death rate among those with thyroid cancer has been extremely low, but we just don't know what is going to happen in the future," continued Prof Williams. "So far thyroid cancer has been the main consequence, because of the very large amounts of radioactive isotopes of iodine in the fallout."
"There is a possible increase in breast cancer, and although it is unlikely that there will be a large increase in other major cancers it cannot be excluded," Prof Williams remarked. "In the absence of continued coordinated studies speculation will be rife and different factions will continue to exaggerate or underplay the possible outcome to suit their own agendas."
According to Prof Williams the true effects of the disaster can only be seen in retrospect but it is speculated that some 4,000 to 9,000 clinical significant thyroid cancers will occur due to the disaster. The increase in other types of cancer across Europe as a whole over the life time of those exposed could be in the tens of thousands, this represents about 0.01% of all cancers in that population.
Prof Williams has called for an independent investigation into the incidence of cancers and other illnesses as a result of the Chernobyl disaster.
Professor Sir Dillwyn Williams was speaking at the 6th Annual UCD Conway Institute Festival of Research which took place on 27 Sept at UCD's O'Reilly Hall. The event which showcases the latest research at the institute is sponsored by Enterprise Ireland Biotechnology and Bio-Sciences. This year, fourteen young researchers were selected to present their preliminary research findings at the festival including: research into the lethal drug combination of caffeine and MDMA (ecstasy) 1, a novel model developed to study neurological diseases caused by HIV2 and new insights into stomach cancer caused by the bacteria Helicobacter pylori3.
The UCD Conway Institute of Biomolecular and Biomedical Research, a 11,200m2 facility, accommodates a total of 450 researchers including postgraduate students and postdoctoral fellows. The innovative building design contributes to promoting interaction between research groups by virtue of its large, open-plan research wings and central spines of shared facilities.