Posted: 10 October 2006
Irish Heart Foundation appoints UCD Professor as President
Updated 27 Oct. 2006.
Professor Eoin O'Brien, Adjunct Professor at UCD, has been appointed as the new President of The Irish Heart Foundation. A cardiologist with a special interest in hypertension, Professor O'Brien was founder and director of the Blood Pressure Unit, formerly at Jervis Street Hospital and latterly at Beaumont Hospital for 25 years. He is a long serving member of the Irish Heart Foundation's Council on Blood Pressure and has served on the Foundation's Medical Committee.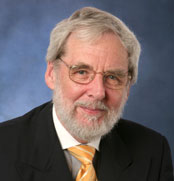 Professor Eoin O'Brien, Adjunct Professor at UCD
"We are honoured to have such a distinguished and experienced Cardiologist as President of the Irish Heart Foundation. Professor O'Brien is one of the world's experts on hypertension and he brings with him a lot of other wider experience including advisory work with numerous health promoting organisations. I greatly look forward to the valuable contribution that he will make to the Foundation," said Michael O'Shea, Chief Executive of the Irish Heart Foundation.
Professor O'Brien has published over 600 scientific papers on hypertension research, and is author of Blood Pressure Measurement and the popular ABC of Hypertension. He sits on the editorial boards of a number of scientific journals devoted to hypertension and he is a past editor of the Irish Medical Journal and the Journal of the Irish Colleges of Physicians and Surgeons. He is a member of the Board of the Centre for International Health and Cooperation at Fordham University, New York, and Chairman of the Committee on Blood Pressure Measurement in Low Resource Settings at the World Health Organisation.
He has studied and written extensively on the history of medicine, his best known books being Conscience and Conflict: A Biography of Sir Dominic Corrigan, and A Portrait of Irish Medicine; An Illustrated History of Medicine in Ireland. He has also studied the works of Samuel Beckett on whom he has written an acclaimed biographical study - The Beckett Country: Samuel Beckett's Ireland, and he published Beckett's first novel Dream of Fair to Middling Women.

"I see the Irish Heart Foundation as having a number of roles that can be achieved though the valuable network established over many years by the Foundation between the medical profession and the Irish community" Professor O'Brien said.
"Cardiovascular disease incorporates a number of diseases, the most common of which are stroke, heart attack and high blood pressure. If risk factor modification, especially blood pressure control, and appropriate drug treatment were in place across the country the occurrence of stroke and heart attack in Ireland could at least be halved" he explained.
In his role as President of the Irish Heart Foundation Prof O'Brien plans to promote public awareness and education on cardiovascular disease and support initiatives aimed at achieving the following:
Better communication and understanding in all age groups as to the importance of healthy life style measures, such as cessation of smoking, achieving optimal body weight and taking exercise

Addressing the over 50-year olds as to the importance of taking responsibility for their own cardiovascular health by 'knowing their numbers' – their blood pressure, weight, cholesterol and sugar levels

Encouraging the over 50-year olds to participate in managing their risk factors, especially their blood pressure, so as to prevent stroke and heart attack. The importance of such an initiative is underlined by the fact that if all the people with high blood pressure in Ireland ensured that their blood pressures were reduced to normal, the occurrence of stroke could be reduced by more than 50%, which would mean that 5000 Irish people would not suffer this devastating illness and that the 30,000 people in Ireland who have survived stroke, many with significant residual disability, would not only in time be reduced in number but many would be prevented from having a recurrent stroke

Initiatives to influence the food industry to promote healthy foods and to reduce the salt content of all foods. For example it is estimated that in Ireland a reduction in salt consumption of 3 grams per day, would reduce blood pressure by 5 mmHg, which would reduce the incidence of stroke by 25% and the incidence of heart attack by 15%

Measures that encourage the public to be involved in the research efforts of the medical profession to improve cardiovascular health by being provided with interpretative evidence-based reports of on-going cardiovascular science and by recognising that by being involved in medical research they not only benefit themselves but the children of the nation.