UCD grad hoists Sam in Tyrone's epic victory
over the Kingdom.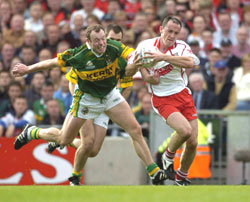 On Sunday, 25 September 2005, Brian Dooher, Bachelor of Veterinary Medicine (Honours) - MVB (Hons) 1998 captained the Tyrone team in the final of the Bank of Ireland all-Ireland football championship against Kerry.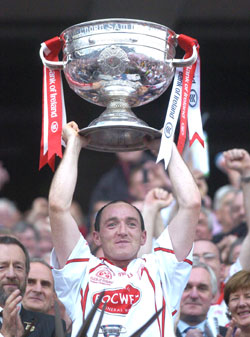 The final lived up to predictions as one of the finest contests in living memory. The final score of 1-16 to 2-10 reflected the determined passion of both teams as Kerry went for the three-in-a-row and Tyrone fought hungrily for a repeat of the success they first tasted in 2003.

During his undergraduate years Brian played for UCD in the Dublin championship and won a Sigerson Cup medal for the university in 1996.
>> More News and Events
>> Back to Home