Eircom League Cup Final in Belfield Park.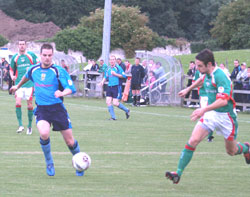 Eircom League Cup Final in Belfield Park – Come and support our team in historic showpiece final.
On Tuesday the 20th of September, UCD will battle it out with Derry City for a record €22,500 prize fund and a place in the 2006 Setanta Cup.
This is the highest profile soccer match ever to be staged in Belfield and represents a great opportunity for UCD to claim its first major trophy since the F.A.I. Cup in 1984.
The match kicks off at 7.45 and will be broadcast live on Setanta sports. Belfield Park is located on the Foster's Avenue side of the campus.
Tickets are currently on sale in the Sports Centre at €15.00 for adults, €10.00 concession (student, O.A.P. etc) and €5.00 for two school children for stand tickets. Ground (standing) tickets are €10.00 for adults (no concessions) and €5.00 for school children. Ticket holders will be entered into a prize draw for five pairs of tickets for Ireland's crucial World Cup home qualifier against Switzerland on October the 12th.
For further information please log on to www.ucdsoccer.com or contact the Sports Centre on 7162142.
Thank you for your support.
UCD Soccer Club
>> More News and Events
>> Back to Home