Posted: 14 September 2006
Robert Fisk at UCD
Bestselling author and journalist Robert Fisk will deliver the keynote lecture entitled "Guns & Cancer" at the Advanced Rheumatology Conference taking place at O'Reilly Hall, UCD, on Thursday 14 Sept.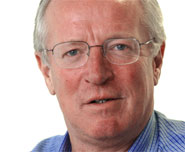 Mr. Robert Fisk
A limited number of complementary tickets for the lecture are available to UCD staff and students (this lecture is not open to the public). Tickets are available on a first come first served basis and can be collected by UCD staff and students up until 4:00pm today (14 Sept) at the conference registration desk in the foyer of O'Reilly Hall, UCD. The lecture will begin at 7pm sharp (doors at 6.30pm).
Based in Beirut, Robert Fisk is Middle East correspondent of The Independent. He has lived in the Middle East for almost three decades and holds more British and international awards than any other foreign correspondent including: two Amnesty International UK Press Awards and 7 British International Journalist of the Year awards. He is the author of Pity the Nation: Lebanon at War (London: André Deutsch, 1990). His most recent book is The Great War for Civilisation: the Conquest of the Middle East, (4th Estate, 2005).
Robert Fisk has a home based in Ireland with his partner Lara Marlow an Irish Times journalist.
To view Robert Fisk articles in The Independent visit: http://news.independent.co.uk/world/fisk/