Posted: 15 September 2006
UCD Professor to chair European Food Safety Authority
Professor Patrick Wall, Associate Professor of Public Health, UCD School of Public Health and Population Science, has been appointed as the new chairman of the European Food Safety Authority (EFSA). The European Parliament established the EFSA in 2002, to provide independent scientific advice and clear communication on existing and emerging risks associated with the food chain.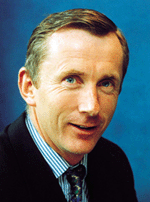 Professor Patrick Wall
A medical doctor and veterinary surgeon, Prof Wall has worked in the areas related to Food Safety since 1979. He served as the first chief executive of the Food Safety Authority of Ireland.
The EFSA is committed to providing information based on risk
assessments and the scientific expertise of its Scientific Committee and Expert Panels. In the event of a food safety crisis, the Authority's role is to provide scientific and technical advice to support the European Commission and Member States in managing the issue.
The EFSA is based in Parma, Italy