Portrait of an artist, Robert Ballagh's Joyce - Eilis O'Brien
As they make their way to the robing room on graduation day, UCD students pass under the gaze of James Joyce.  The six-foot portrait by Robert Ballagh serves to remind students of UCD's literary legacy that stretches from Joyce and Flann O'Brien to John McGahern and Emma Donoghue.
Ballagh was the obvious choice of artist for the Joyce commission.  For him, Joyce is "the eminent cerebral cartographer of our city" and having grown up close to Sandymount Strand and roamed the same paths, he feels he was influenced by Joyce, even before he read his work. "Joyce has been like a travelling companion to me all of my life," Ballagh says, and admits to bringing Ulysses with him when he goes on holidays.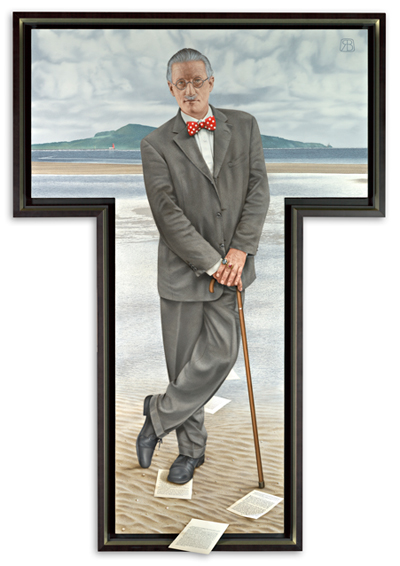 Ballagh presents Joyce striking a dapper pose with his familiar cane, standing on Sandymount Strand with Howth Head in the background extending the painting to a T-shape.  Ballagh spent considerable time on Joyce's face and conscious of his poor eyesight and strong glasses, was determined to be faithful by slightly magnifying his left eye. Strewn across the sand are sheets from Joyce's novels, with one extending beyond the frame in typical asymmetric Ballagh style.
And as each new cohort of graduates processes through the hall, Joyce casts a glance as much to instil in them his own boldness, his own confidence and his own individuality.
"This race and this country and this life produced me, he said. I shall express myself as I am."
― James Joyce, A Portrait of the Artist as a Young Man
Eilis O'Brien is Director of Communication at University College Dublin