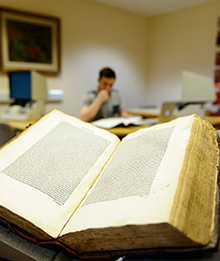 UCD Archives' core function is the curatorship of the archives of the university and the significant institutions which predated its foundation; and of those outstanding collections of private papers and institutional archives acquired and preserved to help document the foundation and development of modern Ireland.
The mission of UCD Archives is to achieve the highest standards in the performance of its core functions:
To identify and preserve collections of archives, papers and manuscripts of national significance, safeguarding the interests of depositors and supporting the teaching and research needs of the university and the wider community.
To identify and preserve those records of the university which are evidence of university functions and which have enduring significance, to support administration and research.
Recent Collections
Papers of the Kevin Barry Memorial Committee
Dates: 1926-35; 1973 | Extent: 1 Box View this collection
Document of the Month
Note from Patrick Hillery to Edwin FitzGibbon concerning Cearbhall Ó Dálaigh (1974) and replies
The sudden death of Ireland's President Erskine H. Childers on 17 November 1974 gave rise to phone calls a number of days later by the Irish Government to Patrick Hillery in Brussels in an attempt to reach Cearbhall Ó Dálaigh, Ireland's Judge on the European Court of Justice.

Hillery had already strongly resisted the suggestion that he would be the agreed candidate for the presidency.
Opening Hours:
UCD Archives reading room hours are:
Monday–Thursday: 10.00–17.00
Friday: 10.00–16.00
Contact UCD Archives:
UCD Archives, University College Dublin,
James Joyce Library,
Belfield,
Dublin 4,
Duty Archivist, Telephone +353-1-716 7555 during Research Room opening hours
Email archives@ucd.ie | Find us on campus