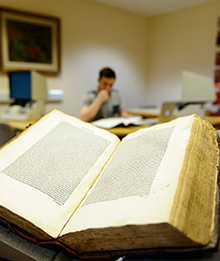 UCD Archives is a component of the UCD School of History and Archives formed in September 2005 by merging the former School of History and Department of Archives as part of a fundamental restructuring of university units. UCD Archives' core function is the curatorship of the archives of the university and the significant institutions which predated its foundation; and of those outstanding collections of private papers and institutional archives acquired and preserved to help document the foundation and development of modern Ireland.
The mission of UCD Archives is to achieve the highest standards in the performance of its core functions:
To identify and preserve collections of archives, papers and manuscripts of national significance, safeguarding the interests of depositors and supporting the teaching and research needs of the university and the wider community.
To identify and preserve those records of the university which are evidence of university functions and which have enduring significance, to support administration and research.
Recent Collections
Papers of the Kevin Barry Memorial Committee
Dates: 1926-35; 1973 | Extent: 1 Box View this collection
Document of the Month
Letter from Ezra Pound to Desmond FitzGerald
The papers of Desmond and Mabel FitzGerald contain not only much of significance documenting Desmond's ministerial career and the emergence and establishment of an independent Irish state, but a great deal relating to their private lives and their wide circle of friends. This circle included many writers, artists and intellectuals such as W.B. and George Yeats, George Bernard Shaw, Paul Henry, Oliver St John Gogarty, and Ezra Pound.
Opening Hours:
UCD Archives reading room hours are:
Monday–Thursday: 10.00–17.00
Friday: 10.00–16.00
Contact UCD Archives:
UCD Archives, University College Dublin,
James Joyce Library,
Belfield,
Dublin 4,
Duty Archivist, Telephone +353-1-716 7555 during Research Room opening hours
Email archives@ucd.ie | Find us on campus