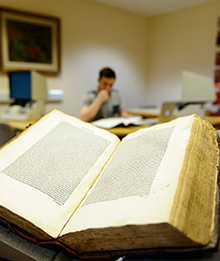 UCD Archives' core function is the curatorship of the archives of the university and the significant institutions which predated its foundation; and of those outstanding collections of private papers and institutional archives acquired and preserved to help document the foundation and development of modern Ireland.
The mission of UCD Archives is to achieve the highest standards in the performance of its core functions:
To identify and preserve collections of archives, papers and manuscripts of national significance, safeguarding the interests of depositors and supporting the teaching and research needs of the university and the wider community.
To identify and preserve those records of the university which are evidence of university functions and which have enduring significance, to support administration and research.
Recent Collections
Document of the Month
Christmas in Prison, 1918
The documentation of the Irish revolutionary period is broad and varied. Included amongst UCD Archives' unparalleled archival collections covering 1916–23, is a significant amount of material created by those who are imprisoned at various points during the period. Much of this material takes the form of letters and diaries but also included are more ephemeral documents created in the prisons, by and for the prisoners. The files numbered UCDA P150/612 and UCDA P150/615 concern De Valera's imprisonment in 1918 under the Defence of the Realm Act (1914) for his involvement in the 'German Plot' ... Read more.
Opening Hours:
UCD Archives reading room hours are:
Monday–Thursday: 10.00–17.00
Please note that our reading room is currently closed on Friday
Confirmed Appointment Essential
UCD Archives reading room will close for the Christmas and New Year period at 17.00 on Wednesday 21 December 2016.
It will re-open at 10.00 on Thursday 5 January 2017.
Contact UCD Archives:
UCD Archives, University College Dublin
James Joyce Library
Belfield
Dublin 4
Duty Archivist, Telephone +353-1-716 7555 during Reading Room opening hours
Email archives@ucd.ie | Find us on campus