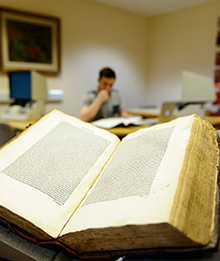 UCD Archives' core function is the curatorship of the archives of the university and the significant institutions which predated its foundation; and of those outstanding collections of private papers and institutional archives acquired and preserved to help document the foundation and development of modern Ireland.
The mission of UCD Archives is to achieve the highest standards in the performance of its core functions:
To identify and preserve collections of archives, papers and manuscripts of national significance, safeguarding the interests of depositors and supporting the teaching and research needs of the university and the wider community.
To identify and preserve those records of the university which are evidence of university functions and which have enduring significance, to support administration and research.
Recent Collections
Document of the Month
Press release announcing Gemma Hussey's appointment as first spokesperson on women's issues.
Gemma Hussey became involved with the Irish women's movement in the 1970s and 1980s. She was a founding member of the Women's Political Association (WPA) with Nuala Fennell, Audrey Conlon, Hilary Pratt and Phil Moore and was elected its Chair in 1973. The aim of the association was to influence public opinion on the importance of gender balance amongst public representatives, to pressurise political parties and to encourage women to run for public office. ... Read more.
Opening Hours:
UCD Archives reading room hours are:
Monday–Thursday: 10.00–17.00
Please note that our reading room is currently closed on Friday
Contact UCD Archives:
UCD Archives, University College Dublin
James Joyce Library
Belfield
Dublin 4
Duty Archivist, Telephone +353-1-716 7555 during Reading Room opening hours
Email archives@ucd.ie | Find us on campus