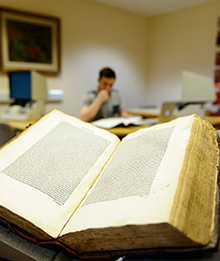 UCD Archives' core function is the curatorship of the archives of the university and the significant institutions which predated its foundation; and of those outstanding collections of private papers and institutional archives acquired and preserved to help document the foundation and development of modern Ireland.
The mission of UCD Archives is to achieve the highest standards in the performance of its core functions:
To identify and preserve collections of archives, papers and manuscripts of national significance, safeguarding the interests of depositors and supporting the teaching and research needs of the university and the wider community.
To identify and preserve those records of the university which are evidence of university functions and which have enduring significance, to support administration and research.
Document of the Month
Tom Kettle's Field Message Book [1916]
Thomas Michael Kettle (1880–1916) was a graduate of UCD, where he took a degree in Philosophy. He was called to the bar in 1905 and elected Nationalist MP for East Tyrone in 1906. He resigned his seat in 1910 having been appointed to the Professorship of National Economics in UCD the previous year. He was admired as a poet, journalist, scholar, orator and politician. ...
Contact UCD Archives:
UCD Archives, University College Dublin
James Joyce Library
Belfield
Dublin 4
Duty Archivist, Telephone +353-1-716 7555 during Reading Room opening hours
Email archives@ucd.ie | Find us on campus