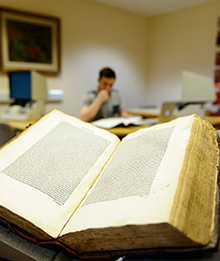 UCD Archives' core function is the curatorship of the archives of the university and the significant institutions which predated its foundation; and of those outstanding collections of private papers and institutional archives acquired and preserved to help document the foundation and development of modern Ireland.
The mission of UCD Archives is to achieve the highest standards in the performance of its core functions:
To identify and preserve collections of archives, papers and manuscripts of national significance, safeguarding the interests of depositors and supporting the teaching and research needs of the university and the wider community.
To identify and preserve those records of the university which are evidence of university functions and which have enduring significance, to support administration and research.
Document of the Month
Letters concerning Bernard O'Rourke's imprisonment, 1916
Bernard O'Rourke was born on 3 November 1874 to Patrick and Anne O'Rourke. His father owned a mill which Bernard inherited. He married Clare Clinton in 1907 and they lived at Gleneven, Inniskeen, County Monaghan. O'Rourke was active in local and national politics: a member of Monaghan County Council, 1905–25 and 1929–45; a Justice of the Peace, 1904–16; chairman of the Carrickmacross Board of Guardians, 1915–17, 1919 and 1922; a magistrate in the Dáil Éireann courts and a member of the Free State Senate, 1922–38.
Opening Hours:
UCD Archives reading room hours are:
Monday–Thursday: 10.00–17.00
Please note that our reading room is currently closed on Friday
Contact UCD Archives:
UCD Archives, University College Dublin
James Joyce Library
Belfield
Dublin 4
Duty Archivist, Telephone +353-1-716 7555 during Reading Room opening hours
Email archives@ucd.ie | Find us on campus