UCD War List
In its calendar for the year 1919–20, UCD published a War List of staff and students who served during World War I. It includes a Roll of Honour of those killed in action, or who died on active service; a list of those awarded military distinctions; past and present students of the college and of the Medical School, Cecilia St, serving 1914–19 and a list of honorary war degrees conferred on past and present students of the college for service in H.M. forces.
Dr Denis J. Coffey (President of UCD, 1908–40) first published a War List in the President's Report of 1914–15, writing
'I hope at another time to be able to submit to the Governing Body a statement in detail of the record of the Graduates and Students of the College who have volunteered for active service from the beginning of the War. I was able to insert a War List, which in some degree acknowledged the indebtedness of the College to a large number of its gallant members. But as the days pass the numbers grow, and all that is possible now is to present a brief statement of the part which our Graduates and Students have so far taken in the war in which the interests of Ireland and the Empire are so profoundly involved.
I shall not be able to give more than a summary, but, being acquainted personally with every man of the representative list of past and present students of the College and of the Catholic University School of Medicine who have gone to the front, I have no hesitation in speaking of them as being as fine a body of patriotic young Irishmen as I have known.'
In the President's Report of 1916–17, Coffey writes:
'For those who have made the generous sacrifice of their lives, while we mourn now for their loss and join in heartfelt sympathy with their bereaved families it will be the duty of the College to enshrine in a permanent memorial the expression of its regard for their memories and its appreciation of their sacrifice.'
As we approach the 100th anniversary of the Armistice of 11 November 1918, we reproduce the full list from the 1919–20 calendar below.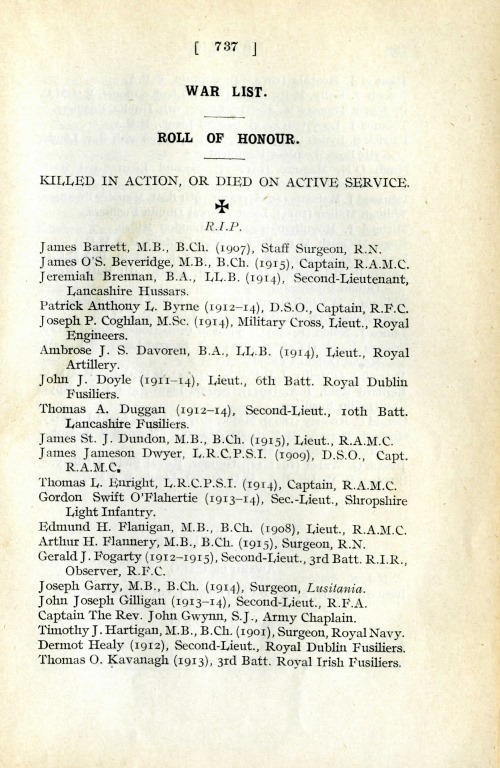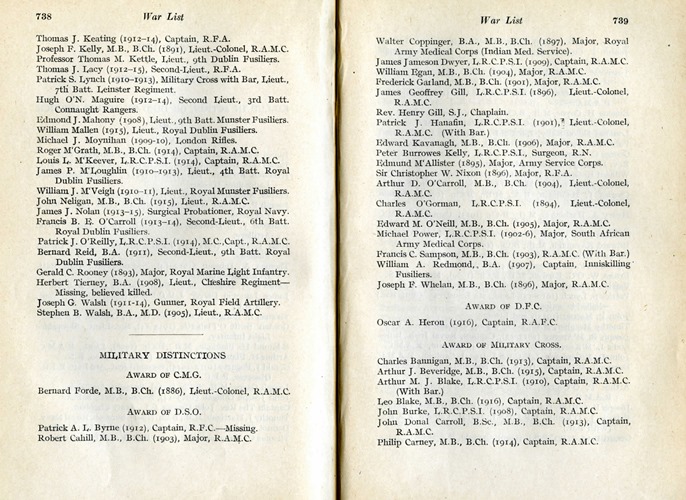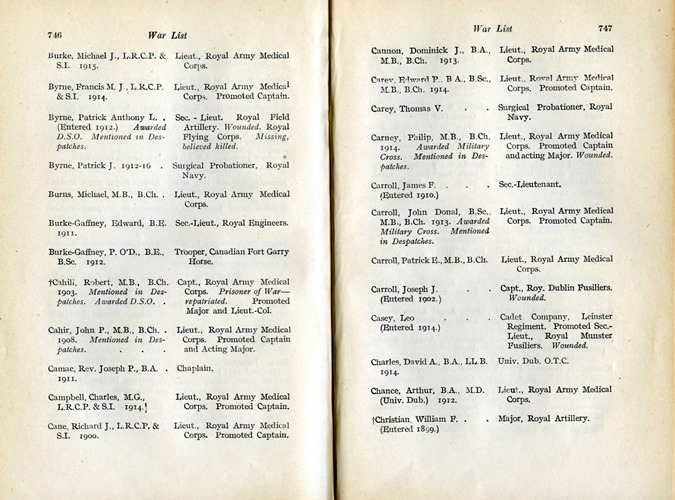 ‌