Death of Thomas Ashe
Thomas Patrick Ashe (1885-1917) was a member of the Gaelic League, the Irish Republican Brotherhood (IRB) and a founding member of the Irish Volunteers.
Ashe was Commander of the Fingal Volunteers (5th Battalion) during the 1916 Easter Rising and won a major battle in Ashbourne defeating the Royal Irish Constabulary. They captured four police barracks and large quantities of ammunition and arms. Ashe and his battalion surrendered on the orders of Padraig Pearse on 29 April 1916.
On 8 May Ashe, along with Eamon De Valera, was sentenced to death by court-martial. This was commuted to life imprisonment and Ashe spent the next year in a variety of English prisons. He was released under the general amnesty in June 1917 and returned to Ireland. A couple of months later after giving a speech in Ballinalee, Longford, Ashe was arrested and charged with 'speeches calculated to cause disaffection'. He was sentenced to one year's hard labour in Mountjoy Jail.
Ashe, along with a number of other nationalist prisoners, demanded to be treated as prisoners-of-war. In protest of their treatment, Ashe went on hunger strike on 20 September 1917. After being deprived of a bed, bedding and being subjected to repeated force feed Ashe died from heart failure and congestion of the lungs in the Mater Hospital on 25 September 1917. Thomas Ashe was 32 years old.
The newspaper article below reports Ashe's death and the status of the remaining hunger strikers in Mountjoy Jail, October 1917.
UCDA P102/628 Papers of The O'Rahilly.
Right click on image to open in a new window.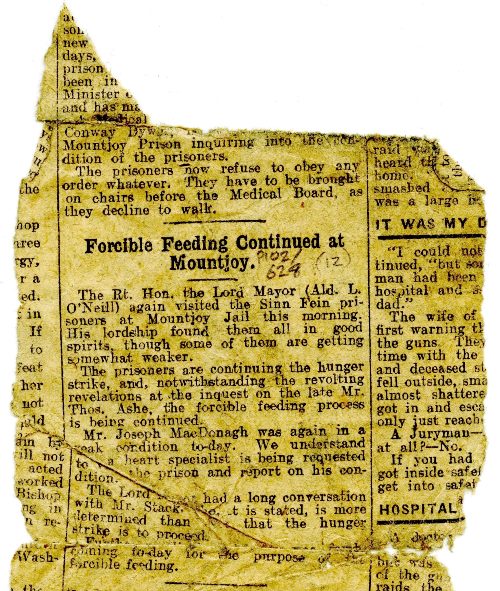 ‌