Welcome to UCD Campus Development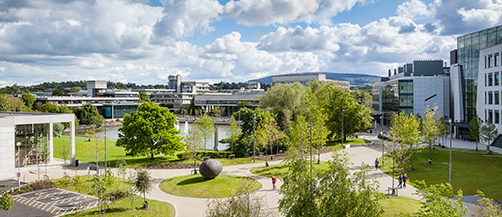 Universities have always been drivers of economic growth and social change. In Ireland, our higher education system has played an invaluable role in contributing to the country's economic recovery, as well as enhancing its reputation abroad.
As a university UCD holds a unique place in society, offering an environment where information and knowledge are used to educate and develop highly skilled individuals, to stimulate innovation and to create new knowledge through research.
Our mission is to contribute to the flourishing of Dublin, Ireland, Europe and the world. UCD will achieve this through the excellence and impact of our research and scholarship, the quality of our graduates and our global engagement. We will also provide the supportive community and environment in which every single member of the University is empowered to achieve their full potential.
In order for UCD to provide the best education, we are planning developments in areas which reflect both our strengths and the needs of the global economy and society. The UCD Strategic Campus Development Plan 2016-2021-2026 sets out a ten year development framework for the Belfield Campus. The Plan focuses on providing the physical infrastructure necessary to achieve the University's mission in terms of state-of the-art education, research and innovation, student residences, sports, recreation and support facilities.
UCD promotes the sustainable development of an attractive, friendly and accessible environment which encourages engagement with university life and local communities.
UCD is very fortunate to have such a unique landscape setting as the Belfield Campus, and this will be further enhanced to provide social and cultural amenities while also maintaining ecological biodiversity.
By adopting a holistic, student-focused and research led educational experience, all of our development activities are driven by a vision for a world-class learning, working and living environment. This supports our goal of being a global top 100 university.
Learn more about the Strategic Campus Development Plan