McAdam Travel Bursary
Bursary Information:
Martin McAdam is a UCD Chemical Engineering graduate (1982) and former CEO of Aquamarine Power, a Scottish Energy company which developed "the Oyster", an innovative technology to generate electrical power from wave power.
Martin generously sponsors the McAdam Travel Bursary, initiated in 2013, as an award for which both Stage 2 and Stage 3 Chemical & Bioprocess Engineering students are eligible. The award is intended for students who wish to achieve a personal goal, which may or may not be directly linked to Chemical and Bioprocess Engineering, but which would contribute to a broadening of the student's individual development.
To the recipient, the McAdam Travel Bursary provides a travel bursary, for use by the end of Stage 3, to a maximum value of €1,000.
McAdam Travel Bursary Information
Show/hide contentOpenClose All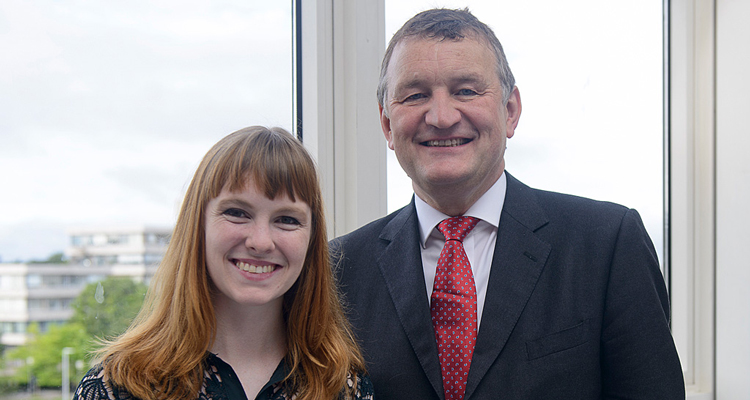 Katie Kilcoyne - 2016 Winner of McAdam Travel Bursary
Katie Kilcoyne is a 2nd Year (2015-16) Chemical & Bioprocess Engineering student. Joint Runner-Up for the 2016 Pat McAdam Scholarship in Chemical & Bioprocess Engineering, Katie is the 2016 recipient of the McAdam Travel Bursary. The Bursary allowed Katie to accept a 10-week IAESTE (International Association for the Exchange of Students for Technical Experience) Traineeship, with Yantai Wanhua, in China. The Traineeship carries a stipend sufficient to cover local living expenses, but not the Dublin-Yantai travel expenses. Without the McAdam Travel Bursary, Katie could not have accepted this challenging and professionally rewarding internship.

James Devane, recipient of the McAdam Travel Bursary 2015, with Dr. Kate McAdam, daughter of the benefactor, Martin McAdam.
James Devane graduated from UCD with a BE degree in Chemical Bioprocess Engineering in 2016 and was recruited by Boliden Tara Mines, as a Process Engineer. Receipt of the 2015 McAdam Travel Bursary allowed James to accept an unpaid, but professionally valuable internship with a London-based Operational Excellence Consultant, specializing in pharma/biopharma applications. During his time in the role, James gained first-hand experience of the effective application of Lean Tools and returned to UCD to commence his final year studies with a heightened appreciation of the role of the Process Engineer in process optimisation and innovation.

Conor Waldron - 2013 Winner of McAdam Travel Bursary
Conor Waldron, a UCD Ad Astra Scholar (2011) was the first recipient of the McAdam Bursary. The Bursary allowed Conor to travel to India, during Summer 2013, to volunteer with SUAS, teaching maths and English to severely disadvantaged primary school-age children. Conor spent the 2013-14 year at the University of Santa Barbara. In 2015, he graduated with a 1st Class Hons degree, ranked 1st in his class. He received the PM Group Kevin Kelly Design Award. In receipt of a U21 Scholarship from UCD, he was one of 3 students representing UCD at the 2015 U21 Undergraduate Research Conference in Auckland. He then completed a Summer 2015 IAESTE Traineeship in China. In October 2016, Conor commenced his PhD research in the area of micro-reactor design, at University College London.