Posted: 18 April 2006
Glass from the past
Blaschka conference and exhibition, Dublin
September 28 - 30, 2006
UCD is to co-host the Dublin Blaschka Congress, the first ever international conference focused on the work of father and son glass artists Leopold and Rudolf Blaschka. The conference takes place from 28 to 30 September in the Natural History Museum, and is accompanied by a public exhibition, running from September to December 2006, of some never-before-seen Blaschka models.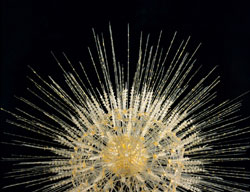 Blaschka Radiolarian
Blaschka glass sculptures are renowned for their historical, technical and artistic importance; they include anatomically detailed and scientifically correct models of hundreds of species of marine animals and magnified microscopic organisms.
"There is growing interest in Blaschka works because these are the first objects that directly connect science and art," says Nigel Monaghan, Keeper of Natural History in the National Museum of Ireland, Dublin. "Scientists call them 'models', artists call them 'sculptures', but they clearly have a huge value to both."
Collections-based Biology in Dublin (CoBiD), the partnership organising the conference, is a programme that was launched in 2003 to promote teaching and research into preserved biological specimens held in museum collections. CoBiD is the only such collections-based teaching programme in the world. It is run by the UCD School of Biology and Environmental Science and the National Museum of Ireland (Natural History).
For further information on the Dublin Blaschka Congress consult www.ucd.ie/blaschka or contact Catherine McGuinness at blaschka2006@ucd.ie or +353 1 648 6396.