UCD's School of Social Justice – a world first
Erik Olin Wright inaugural lecture: Taking the 'Social' in Socialism Seriously
Marking the creation of the first School of Social Justice in a university, the world's leading Marxist scholar, Professor Erik Olin Wright (ViIas Distinguished Professor of Sociology, University of Wisconsin, Madison) gave the first public lecture of the UCD School of Social Justice on Friday 2 December.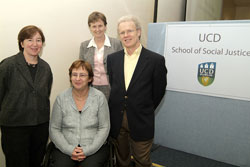 Left to Right; Dr Sara Cantillon, Head of School, Professor Kathleen Lynch, Professor of Equality Studies, Professor Erik Olin Wright, Distinguished Vilas Professor of Sociology, University of Wisconsin, Madison, Ms Ursula Barry (seated), Deputy Head of the School of Social Justice.
Addressing a full house at the inaugural, Professor Wright spoke on 'Taking the 'Social' in Socialism Seriously'. Wright is a realist and believes in practical action rather than wringing of hands in the face of injustice around the world. His recent work concentrates on the need to create and structure civil society institutions that tackle the inevitable inequalities caused by an increasingly globalised capitalist society. Facing up to what he calls 'the ten sins of capitalism', Wright puts forward tangible examples from different countries around the world on how to reconcile the economic system of society and the needs of civil society.
Over a decade ago Wright set up the Real Utopias Project to explore a wide range of proposals and models for radical social change. The Real Utopias Project is an attempt at sustaining and deepening serious discussion of radical alternatives to existing institutions. The objective is to focus on specific proposals for the fundamental redesign of basic social institutions rather than on either vague, abstract formulations of grand designs, or on small reforms of existing practices. In practical terms, the Real Utopias Project consists of a series of workshop conferences, each revolving around a manuscript that lays out the basic outlines of a radical institutional proposal. The essays presented at these conferences are then revised for the books in the Real Utopias Project series. The ultimate aim is to investigate systematic proposals that attempt both to embody emancipatory values and to take seriously the problem of institutional feasibility.

The UCD School of Social Justice will co-host the 2006 meeting of the Real Utopias research seminar series.

>> More News and Events
<< Back to Home