Posted: 09 January 2006
Dr Ian O'Donnell appointed Director of UCD Institute of Criminology.
Professor Paul O'Connor, Dean, UCD School of Law, has announced the appointment of Dr Ian O'Donnell as the new Director of the UCD Institute of Criminology.
Dr O'Donnell succeeds Professor Finbarr McAuley who has decided to step down after leading the Institute as Acting Director for the past three years. Thanking Professor McAuley for his work, the Dean said he had 'taken on the role during a period of unprecedented change' and that he had 'discharged the responsibilities of the office with great professionalism and commitment.'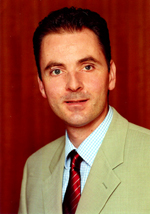 Dr Ian O'Donnell
Dr O'Donnell first joined the staff of the UCD Institute of Criminology when it was established in 2000. Prior to this he had been Director of the Irish Penal Reform Trust following nine years in England, much of the time spent at the Oxford University Centre for Criminological Research. Dr O'Donnell has a prolific output of books, articles in scholarly journals and opinion pieces in the national press. Earlier this year he was conferred with the degree of LLD for his publications in the area of criminology and criminal justice.