Posted: 05 May 2006
Rare fossil treasures go on display in Dublin
8 May - 10 Sept 2006
Ancient volcanoes off the coast of Dublin, saltwater crocodiles, 'living' fossils, and a new species of dinosaur from Kazakhstan all feature in a new temporary exhibition in the Natural History Museum, Dublin.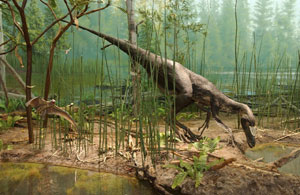 Artists reconstruction of a ornithomimid dinosaur ('ostrich-mimic') in a swamp. The new dinosaur on exhibit in the museum would have looked like this
The exhibition highlights work completed on fossil collections through Collections-based Biology in Dublin (CoBiD), a joint programme linking UCD School of Biology and Environmental Sciences and the Natural History Museum which aims to make the Museum's scientific collections more accessible. It offers a rare glimpse of the array of palaeontological materials held in the care of the Natural History Museum - including rare fossil treasures never before seen by the general public.
CoBiD is funded by Science Foundation Ireland as part of the Undergraduate Research Experience & Knowledge Award (UREKA) programme.
Fossils are the key to understanding the past. They help explain the evolution of different habitats and species through time.
The exhibition will run from 8 May to 10 September 2006 - a series of four lunchtime lectures will be held every Wednesday starting 10 May.
For more information:
T: 01 6486 396
E: julia.sigwart@ucd.ie
W: www.ucd.ie/zoology/museum

>> More News and Events
<< Back to Home