Posted: 08 May 2006
Science Speak - Irish Universities Promoting Science
May 15, 2006 - RDS, Dublin
Under the banner Irish Universities Promoting Science, the seven Irish Universities, in association with the RDS and the Irish Times, will host a national inter-varsity called 'Science Speak' in the RDS, Dublin. At the event, one postgraduate student from each University will deliver a presentation on their scientific research in a non-scientific manner.
Contestants will compete in front of a panel of celebrity judges which will include Adi Roche (Director, Chernobyl Children's Project), Peter Brabazon (Programme Director, Discover Science and Engineering, Forfas), Kathriona Devereux (Presenter, Scope, RTE) and Dick Ahlstrom (Science Editor, Irish Times).
Pat Kenny (Presenter, RTE) will act as compere on the night. Prizes are sponsored by Wyeth Biotech and will be presented by Minister Mary Upton TD.
Stephen Nolan, UCD School of Biomolecular Science and UCD Conway Institute, will represent UCD Science at Science Speak 2006.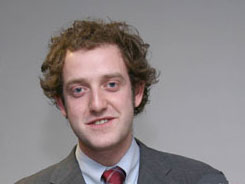 Stephen Nolan
His presentation is titled 'Kidney disease: when good cops go bad!'
Synopsis:
The kidneys consist of millions of tiny tubes called nephrons, which perform the very important function in the body of constantly purifying the blood, much like a sieve. In kidney disease or kidney fibrosis the kidney becomes scarred and begins to malfunction as excess amounts of proteins gather inside the kidney, causing swelling which blocks the tubes preventing them from filtering and cleaning the blood, like a sieve when it becomes blocked. Damage to the kidney can cause it to be invaded by the body's defensive white blood cells as they attempt to cure the problem. However sometimes these white blood cells can cause more harm than good and can cause c change in cell type within the kidney. Cells which normally form a functioning part of the kidney 'transform' into cells which release proteins and thus add to the progression of the disease. My work involves investigating the effect of the white blood cells on the kidney cells and how they might work together to aid the damage to the kidney.
Science Speak 2006 is open to the general public and admission is free of charge. Places must be booked in advance to ensure access to the event.
For bookings contact the automated booking line on 1550 114 708 or from Northern Ireland on 0906 604 0248. Each caller may only book up to two seats. Booking phone lines will remain open until all 700 seats have been reserved.