Posted: 19 September 2006
Veterinary scientists from Norway and Ireland pledge to join forces
HM King Harald V of Norway witnessed the signing of a memorandum of understanding between University College Dublin and the Norwegian School of Veterinary Science (Norges Veterinaerhogskole) at an Irish-Norwegian veterinary conference which took place at UCD, Belfield, on 19 September 2006.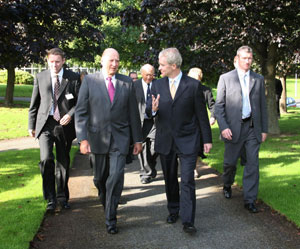 HM King Harald V of Norway (centre left) on his visit to UCD,
accompanied by Dr Hugh Brady, President, UCD
The agreement will allow the universities to exchange students, researchers and scientific materials of mutual interest. Students who enrol on the exchange programme will achieve full-credit towards their degree for the subjects studied at the host university. Participation in the programme will extend to graduate students. The agreement which promotes educational relations and cooperation will help to deepen the cultural understanding between Ireland and Norway.

Pictured signing a memorandum of understanding between University College Dublin and the Norwegian School of Veterinary Science: Dr. Hugh Brady, President, UCD, and Professor Lars Moe, Rector, Norwegian School of Veterinary Science, Oslo, Norway
The universities have also announced their intention to establish a jointly funded interdisciplinary Chair who will create and operate research teams across each institution in the fields of food safety and security, immunology and other areas of strategic research in veterinary medicine.
'The agreement will generate strong practical collaborations between the Norwegian School of Veterinary Science and UCD in both teaching and research,' said Dr Hugh Brady, President of UCD. 'We are excited by the opportunities that this agreement will present and look forward to a most fruitful partnership with Norges Veterinaerhogskole.'
HM King Harald V of Norway gave the opening address at the Irish-Norwegian veterinary conference.
Prof Simon More, UCD School of Agriculture, Food Science & Veterinary Medicine, gave the keynote address at the veterinary conference: Functional Genomics: The New Route to Food Quality and Improved Animal Health. In his address he highlighted the considerable concern surrounding the impact of global competition on domestic agricultural industries in both Ireland and Norway.
'Superior animal health status has the potential to contribute substantially to international competitiveness,' said Prof More, before continuing to outline some of the technical and non-technical issues of consideration based on international best practice, in order to achieve superior animal health status and to meet the challenges of a globally competitive environment. He also referred to the growing importance of the government-industry interface.
Prof More and his research team at UCD are working on ways to eradicate and control animal diseases. Their research is supported by the Department of Agriculture and Food. As a result of the synergy between their research and the research of colleagues in Norway, they have identified the control of pancreas disease in farmed salmon as a key research priority. The collaboration will study the epidemiological patterns in Ireland and in Norway and functional genomics will play a core role in this research.
Mrs Helga Pedersen, the Norwegian Minister for Fisheries and Coastal Affairs and Professor Ole Petter Ottersen from the University of Oslo also addressed the international veterinary conference at UCD.