UCD receives Athena SWAN Bronze Award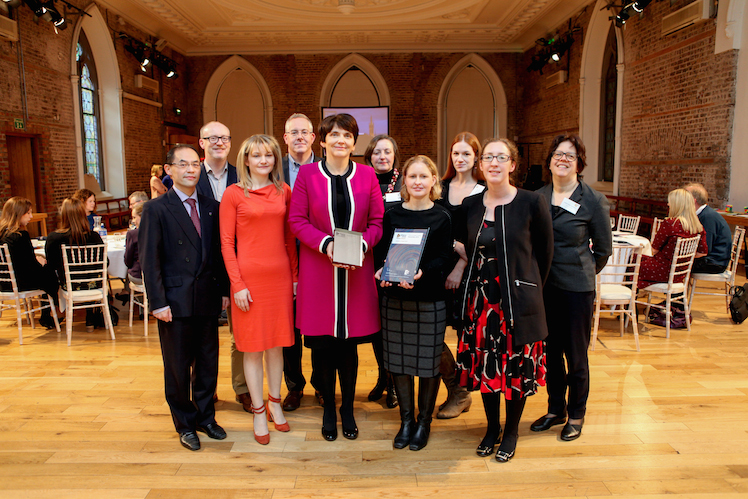 Posted: November 27, 2017
UCD was presented with a Bronze Athena SWAN award at a ceremony held in Dublin on November 23rd.
The award recognises UCD's efforts to address gender inequality by identifying issues and tackling these through the University's Gender Equality Action Plan.
"This is a welcome recognition of UCD's commitment to our community to enhance gender equality in the University and is a significant milestone for UCD. It comes after robust consultation and examination of gender equality in the University and the development of a comprehensive Gender Equality Action Plan which we are rolling out," commented Professor Orla Feely, Athena SWAN project sponsor.
The Athena SWAN award, operated by the Equality Challenge Unit (ECU) UK, was established initially to promote the advancement of women's careers in higher education and research in the STEM area. The award has recently been expanded to cover all disciplines.
Pictured top: UCD Athena SWAN steering group members at the presentation of the Bronze Athena SWAN award, (front row, L to R) Dr Naonori Kodate, UCD School of Social Policy, Social Work and Social Justice; Catherine Lynch, project manager; Prof. Orla Feely, Athena SWAN sponsor and chair, Marcellina Fogarty, Equality, Diversity & Inclusion Manager, UCD HR; Assoc. Prof. Sheila McBreen, UCD School of Physics; (back row L to R) Rory Carey, Director Culture & Engagement – UCD HR; Mark Simpson, Culture & Engagement – UCD HR; Dr Sinead Critchley, Director of University Governance; Dr Selena Daly, UCD School of Languages, Cultures & Linguistics; and Prof. Kathleen James-Chakraborty, UCD School of Art History & Cultural Policy
Actions from UCD's Gender Equality Action Plan already implemented include:
• The appointment of a Vice-President for Equality, Diversity and Inclusion
• The establishment of an Equality, Diversity and Inclusion Group reporting to the University Management Team
• A new HR Strategy and faculty development processes integrating gender equality
• The development of an Equality Impact Assessment Tool, which will enable and require all policy developers to ensure that UCD policies are inclusive and promote equality and diversity
• The introduction of a social levy, to distribute the costs of leave
• New policies specifying family friendly core meeting hours and gender representation on committees.
Delighted to accept the Athena SWAN award with @ucddublin colleagues, reflecting the progress being made across the university in pursuit of gender equality. pic.twitter.com/CSEPdkHBiT

— Orla Feely (@OrlaFeely) November 23, 2017
"A key next step in implementing our action plan will be individual school applications. This process has now commenced and we anticipate up to eight schools applying for the award by the end of 2018," said Professor Feely.
Support for schools making their Athena SWAN applications can be found here
In order to ensure pan-university engagement with the Gender Equality Action Plan, UCD's Athena SWAN steering group, chaired by Professor Orla Feely, was recently augmented with representatives across the University and renamed the Gender Equality Action Group.
Published with materials provided by UCD Human Resources