UCD appoints Jean Butler Dance Artist in Residence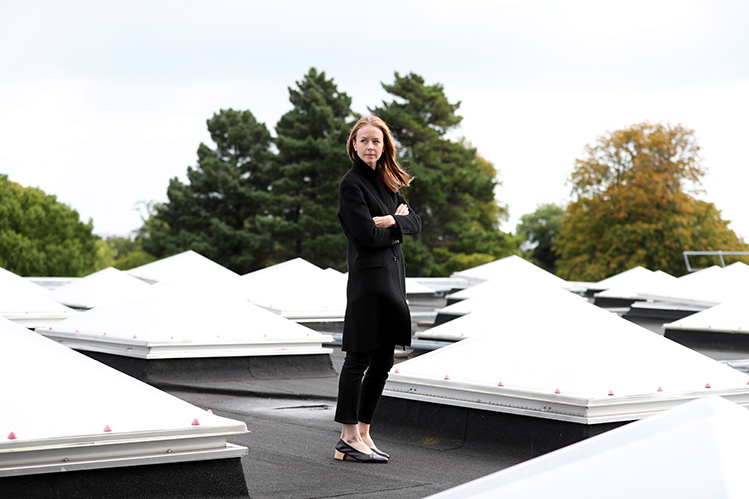 Posted: September 15, 2017
Jean Butler to become Director of new UCD Irish Dance Ensemble
Jean Butler, who burst onto the international stage as the original female lead dancer and co- choreographer of Riverdance in 1994, is to take up a new role as Dance Artist in Residence and Director of UCD Irish Dance Ensemble with University College Dublin in September. Applications are now open to students to audition for the UCD Irish Dance Ensemble.
In her role as Dance Artist in Residence, based in the UCD School of English Drama and Film, Butler will share her international dancing expertise, academic research and insight with students and faculty. She plans to host informal dance lecture demonstrations of her personal research and findings, and take part in conversational lectures. The appointment of Jean Butler is a pioneering step by the University to champion the national art of Irish Dance.
Professor Danielle Clarke, Head of the UCD School of English Drama and Film at UCD, says of Butler's appointment: "We are thrilled that someone of Jean Butler's talent and international reputation will be working with students and faculty in the School. Her appointment will help us fulfil our ambition of bringing creative and critical practice into productive dialogue, as well as showcasing our strengths in the area of performance."
As Director of UCD Irish Dance Ensemble, Butler will appoint and direct a new performing group of talented Irish dancers from within the student body, helping these performers improve their technical and stylistic dancing skills, while also developing a deeper and more extensive understanding what constitutes Irish Dance performance.
UCD already offers opportunities in drama, singing, orchestra and instrument, to gifted performing arts students who are enrolled in academic degree programmes across the University. These students are awarded financial stipends, and receive dedicated training by artistic directors as well as performance opportunities for their artform, complementary to their academic studies.
"Adding Irish Dance to our performance repertoire was a very natural step for us as we knew we were missing this element of our cultural heritage." Eilis O'Brien, Director of Communications explains. "Our existing performance students have already shown that they love to take their art to stages beyond these shores. The UCD Choral Scholars for example, are wonderful ambassadors who perform to the highest international standards, have recorded under classical label Signum Records, and regularly tour overseas while managing to complete their studies in subjects ranging from archaeology to zoology.
The talent is already here. Jean is the catalyst to bring forward Irish dancers who would like to have the opportunity to be part of exciting choreography and collaborations within the University artistic community and the wider field. Our plan is to take the Irish Dance Ensemble on overseas tours as well as to perform here in Ireland."
Auditions from within the UCD student body across all academic disciplines will take place in October. Up to five talented students will be appointed to the Ensemble, and will receive a financial bursary, and under the direction of Jean Butler, will develop their artistic talents working collaboratively with Kristyn Fontanella as deputy choreographer, and perform at high-profile events in Ireland and abroad.
---
About Jean Butler
Best known as a practitioner in Irish Dance, Butler originated the female principle roles and co-choreographed Riverdance The Show and Dancing on Dangerous Ground, the later which Anna Kisselgoff of the NY Times reviewed as "channelling Irish step dancing into genuine artistic expression." Since 2005, she has been working in a contemporary context with commissions and support from The Abbey Theatre, The Project Arts Center, The Dublin Dance Festival, Jacob's Pillow, Danspace Project, The Joyce, Baryshnikov Arts Center and most recently The Kennedy Center.
Butler is currently Associate Professor of Irish Studies at Glucksman Ireland House, New York University, and in Spring 2018 will teach at the prestigious Princeton Atelier. Butler's work as a choreographer, performer and academic bridges the gap between a culturally specific practice and a contemporary approach to dance making and thought. She is committed to idiosyncratic exploration within traditional form and is dedicated to expanding the canon and perception of Irish Dance Performance. He current piece, commissioned by Paul Muldoon for the Seamus Heaney Centre premiered on September 8. Her recent duet, this is an Irish dance with cellist Neil Martin, will open the music for Galway Festival on September 29 and will be in residence at The Model in Sligo on October 1.
By: Gráinne O'Hogan, UCD Arts Manager