Communication hub from the AUGER project
The Synthesis report has now been published here.
The full final report will soon be available here.
Other publications linked to the project:
Premrov, A. David Wilson, Matthew Saunders, Jagadeesh Yeluripati, Florence Renou-Wilson. 2021. CO2 fluxes from drained and rewetted peatlands using a new ECOSSE
model water table simulation approach. Science of the Total Environment 754 (2021) 142433.
AUGER presentations at EGU 2021 and IPS 2021:
AUGER Presentations at EGU 2020: click on the PDFs:
AUGER Poster at EGU 2019: click here for PDF Kilian Walz EGU Poster
AUGER outreach publications
--> ~AUGER team appeared on "10 things to know about..." aired on 15th April 2019 on RTE (twitter account : @10things_ToKnow) click here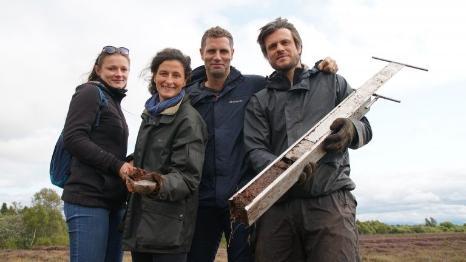 Dr Flo Renou-Wilson and Kilian Walz (PhD student) with Jonathan McCrea from the 10 things to know about team.
--> Biodiveristy Week 2018
At Cloghjordan where Kilian Walz talked about the AUGER project
--> Peatlands restoration in Ireland and globally: Climate change - Society of Ecological Restoration SER NEWS June 2017
-->Peatland International Issues 1.2017 Click link below
Peat‌
-->EPA Newsletter APRIL 2017
AUGER Posters and Presentations:
--> IPS Symposium, Aberdeen, May 2017
Kilian Walz and Dr David Wilson presented a poster and an oral presentation respectively.
--> FAO, Global Symposium on SOC, ROME MArch 2017
Dr Florence Renou-Wilson, Dr Ken Byrne and Kilian Walz attended this first Global Symposium on SOC.