Business e-Connections newsletters are our official alumni newsletters that aim to keep our business graduates up to date on the latest news and views from the UCD College of Business, alumni activities, events and topics of interest to our global business alumni community.
Our newsletters feature in-depth interviews and videos featuring prominent thought leaders, business alumni and academia from UCD College of Business, sharing their insights on a range of business and management topics.
The content of the newsletters can be shaped by you, our graduates. We welcome your thoughts, comments and opinions and would be delighted to feature your stories and experiences. Please contact businessalumni@ucd.ie should you wish to propose a news feature or article for our Business e-Connections newsletters.
Latest Newsletters
Welcome to the September edition of Business e-Connections - your alumni newsletter.
Congratulations Class of 2023
September welcomes the return of students to campus as well as the graduating Class of 2023 to the UCD Business Alumni community. Undergraduate students from the UCD Lochlann Quinn School of Business graduated last week with Assoc Prof Maeve Houlihan, Director of the Quinn School wishing them well on their next adventure. Photos from the ceremonies can be viewed
here
.
Upcoming New York Events
We return to New York this Autumn and invite members of our alumni community based there to join our Digital Transformation Masterclass on Monday 23rd October entitled, '
Is it Time to Get Rid of the IT Department?'
with Prof. Joe Peppard, Academic Director Smurfit Executive Development.
UCD Alumni Affinity Groups also launch this month in New York, with two panel discussion events scheduled:
Both of these engaging panels will be held at Bank of Ireland's NYC Hub, 2 Grand Central Tower, E 45th Street, New York.

UCD Quinn Business Mentoring Programme
The UCD Quinn Business Mentoring Programme returns for its sixth year. A huge thank you to all previous mentors for making a positive impact on the professional and personal development of our 2nd Year students. We would be delighted to welcome previous and new mentors to this year's panel. The Quinn Business Mentoring Programme will run from
October 2023
to
April 2024,
and we ask alumni mentors to meet with their student mentees
at least three times during this period
. We invite alumni to join our panel of mentors and will endeavour to match mentors and mentees based on their areas of interest and expertise. Please see the Mentor Sign Up Form below and if you have any questions, please do not hesitate to contact
businessalumni@ucd.ie
.
The
GLP Mentoring Programme
returns for its fourth year and will run from January 2024 – June 2024. Should you have an interest in participating, please email
gillian.durnin@ucd.ie
.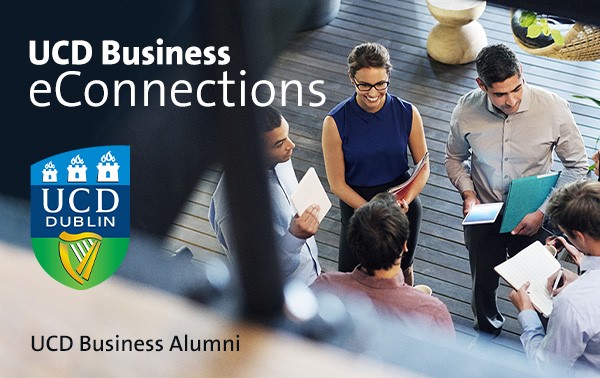 e-Zine archive
Did you miss an edition of Business e-Connections? Catch up on previous e-Zines below.