Business e-Connections newsletters are our official alumni newsletters that aim to keep our business graduates up to date on the latest news and views from the UCD College of Business, alumni activities, events and topics of interest to our global business alumni community.
Our newsletters feature in-depth interviews and videos featuring prominent thought leaders, business alumni and academia from UCD College of Business, sharing their insights on a range of business and management topics.
The content of the newsletters can be shaped by you, our graduates. We welcome your thoughts, comments and opinions and would be delighted to feature your stories and experiences. Please contact businessalumni@ucd.ie should you wish to propose a news feature or article for our Business e-Connections newsletters.
Latest Newsletters
Welcome to the January 2023 edition of Business eConnections e-zine. Happy New Year to all members of our global alumni community and to those celebrating Lunar New Year, we wish you every health and success for 2023.
------UCD College of Business Green Challenge - 13th Feb - 14th March
We are delighted to announce the return of our Business Alumni Challenge 2023! Previous participants will remember the health and wellbeing focus of the Challenge over the last two years. This year however, we are delighted to launch the College of Business Green Challenge - the focus of which will be sustainability and offsetting our carbon footprint.
Climate change is a crisis that effects every corner of the globe and as a global community of over 100,000 members, we have the opportunity make small, easy changes in our daily lives that can have real global impact.
How it Works?
Using the climate action app -
Pawprint
- we will work together by tracking small carbon saving actions such as switching switching the car for the bike, single-use to reusable, imported to locally sourced over the 30 day Challenge.
Our Goal
Our goal is to collectively save
40,000kgs of CO2e
from entering our atmosphere by the end of the challenge - that's the equivalent of saving 68,000kgs of rubbish from landfill!
Get Involved
We will be launching the Challenge on
Monday 13th February
so follow us on
social media
for information on how to get involved and take small actions to make a big impact
-----
In this edition of our newsletter we feature interviews with Ashley McDonnell (CEMS/MSc International Management, 2016), Global Digital Media and e-Commerce Director, Puig and David Hartigan (MSc Management Consultancy, 2016), Founder and CEO at Hemp Heros.

We also include a roundup of events and news from the College of Business.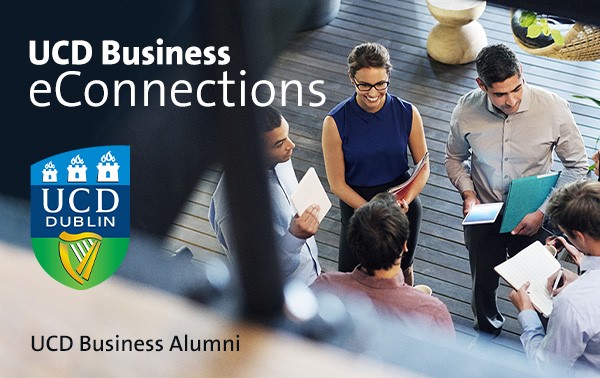 e-Zine archive
Did you miss an edition of Business e-Connections? Catch up on previous e-Zines below.