Business e-Connections newsletters are our official alumni newsletters that aim to keep our business graduates up to date on the latest news and views from the UCD College of Business, alumni activities, events and topics of interest to our global business alumni community.
Our newsletters feature in-depth interviews and videos featuring prominent thought leaders, business alumni and academia from UCD College of Business, sharing their insights on a range of business and management topics.
The content of the newsletters can be shaped by you, our graduates. We welcome your thoughts, comments and opinions and would be delighted to feature your stories and experiences. Please contact businessalumni@ucd.ie should you wish to propose a news feature or article for our Business e-Connections newsletters.
Latest Newsletters
Welcome to the September 2022 edition of Business eConnections e-zine.

It is an exciting time of the year for us as we welcome our new students onto campus as they embark on their Quinn and Smurfit experiences and of course our continuing students are pleased to be back to a full resumption of on campus learning.

In this edition of our newsletter we feature interviews with Kerry Spellman Curran (MBA, 2004), Executive Director, Managing Partner, Performance Strategy and Growth at GroupM Nexus and Kevin Thomas (MSc in Business (Leadership and Management Practice, 2019), Director at One Agency Recruitment.

With a return to travel we are pleased to once again be able to meet alumni and look forward to hosting Alumni events in New York and Singapore this October and November.

As the 2022/23 academic year begins our Quinn Mentoring Programme and our Smurfit GLP Mentoring Programme are returning again this year. These highly successful mentoring programmes have been running for several years and the feedback from participants, mentors and mentees, has been hugely positive. Students benefit enormously from the exchange of ideas with experienced alumni who share their wealth of experience and provide advice and guidance. We invite alumni to join our panel of mentors and will endeavour to match mentors and mentees based on their areas of interest and expertise. If you have been a mentor in previous years and wish to join our panel again this year or wish to become a new mentor providing guidance to current students - please register below.

Quinn Mentoring Programme Register
Smurfit GLP Mentoring Programme Register

We are saddened to share with alumni the news of the loss of our dear Colleague Dr Christoph Drechsler who passed away suddenly this month – Christoph was a dedicated educator who inspired a generation of students ranging from those just beginning their business studies to experienced professionals. He had a huge passion and enthusiasm for his discipline which left a lasting impression on students and colleagues alike. You can read our tribute to Christoph here.

We also include a roundup of events and news from the College of Business.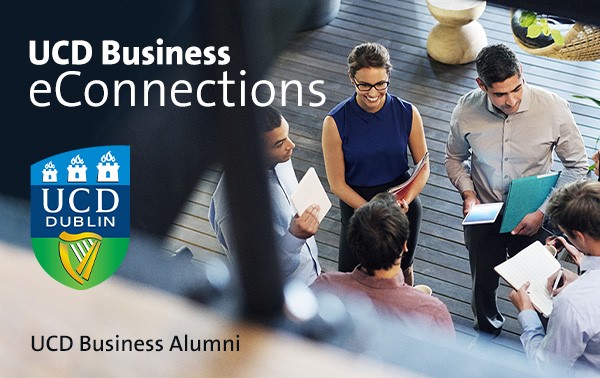 e-Zine archive
Did you miss an edition of Business e-Connections? Catch up on previous e-Zines below.