Business e-Connections newsletters are our official alumni newsletters that aim to keep our business graduates up to date on the latest news and views from the UCD College of Business, alumni activities, events and topics of interest to our global business alumni community.
Our newsletters feature in-depth interviews and videos featuring prominent thought leaders, business alumni and academia from UCD College of Business, sharing their insights on a range of business and management topics.
The content of the newsletters can be shaped by you, our graduates. We welcome your thoughts, comments and opinions and would be delighted to feature your stories and experiences. Please contact businessalumni@ucd.ie should you wish to propose a news feature or article for our Business e-Connections newsletters.
Latest Newsletters
Welcome to the May 2022 edition of Business eConnections e-zine.

As we celebrate National Volunteer Week this month (May 16th -22nd), we would like to take this opportunity to thank all our wonderful Business Alumni Volunteers including this year's Business Alumni Mentors. Do keep an eye on our social media channels this month as we will showcase some of our volunteers.

We are delighted to share that this June the UCD Festival resumes as an in-person event on campus in Belfield. Each College participates and we are excited that the College of Business event is a talk entitled: Cryptocurrencies and Web3: Past, Present and Future with Dr. Paul Dylan-Ennis, which will take place in the UCD Quinn School of Business on Saturday, 11th June at 12.30pm. We hope to record the event to share with our international alumni.

In this edition of our newsletter we feature interviews with Christina Carey Dunleavy (MBA '10), VP, Commercial Operations Disney CreativeWorks and The Walt Disney Company, and Gerard Dwyer (BComm '90, MBS '97), GVP, Business Finance at Rivian.

We also include a roundup of events and news from the College of Business.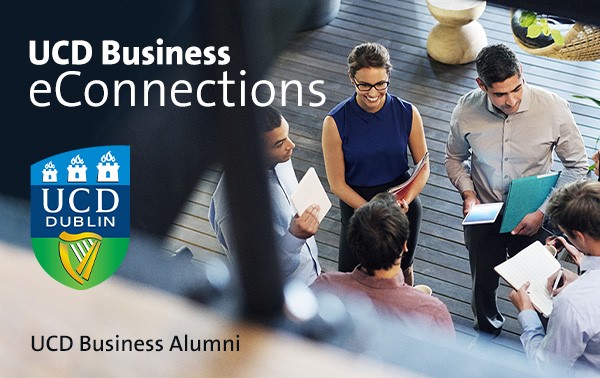 Welcome to the first edition of our Business eConnections eZine with a regional focus on Asia. While you will still receive your usual UCD Business e-Connections newsletter, this is an additional bi-annual publication focusing on news of most interest to our alumni located in Asia.

In this edition we feature interviews with Robert Wijeweera (MSc in Management '13 Sri Lanka), Non-Executive Director and Former CEO Singer Finance (Lanka) Plc. and Val Arevalo (MSc in Marketing '21 Singapore), Senior Product Marketing Manager - Cloud and IoT at Singtel.

We also include a roundup of events and news from the College of Business and our Campuses located in Hong Kong, Singapore and Sri Lanka.
e-Zine archive
Did you miss an edition of Business e-Connections? Catch up on previous e-Zines below.