This project has received funding from the European Union's Horizon 2020 research and innovation programme under grant agreement No 101007931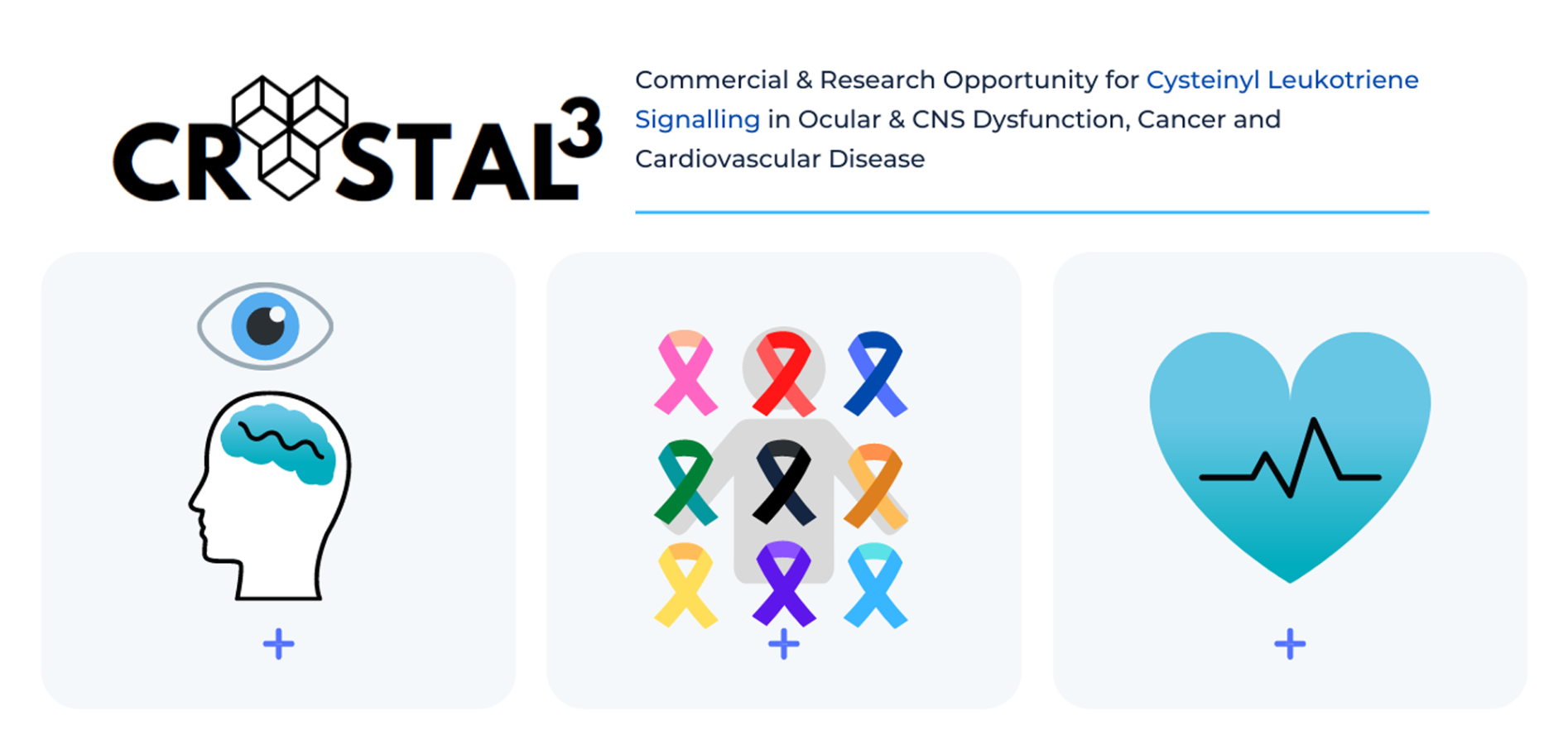 CRYSTAL3 is an international MSCA-RISE consortium led by University College Dublin (UCD) funded by EU Horizon 2020 with €887,800 to investigate a specific cell signalling process seen across a range of human diseases: cysteinyl leukotrienes (CysLTs).
More than 2.5 billion people suffer from vision impairment according to the World Economic Forum. Ocular (eye) disease places a direct economic burden on European countries of ~€20 billion. Brain disorders such as dementia and neurodegeneration account for ~30% of overall disease burden in Europe with a resulting economic impact of ~€800 billion annually. There are few effective treatments for these disorders.
The World Health Organisation estimates cancer is responsible for 1 in 6 deaths, and incidence will grow to 29 million by 2040. Global cancer control is a priority. In Europe, cancer healthcare costs ~€57 billion. Healthcare costs associated with cardiovascular disease worldwide are estimated at €100 billion each year.
Currently, drugs targeting CysLT receptors are prescribed to treat airway inflammation. Recently, CysLT signalling was implicated in regulating cells in cancer, cardiovascular disease and diseases involving the eye and central nervous system. The CRYSTAL3 consortium will determine how CysLT signalling links to these diseases, then explore potential targeted therapies and how any products and services co-developed can be commercialised. LEARN MORE ABOUT CRYSTAL3 RESEARCH
CRYSTAL3 will provide Marie Sklodowska Curie Fellow status to at least 50 staff members from all sectors and involved countries, with different professional profiles and at different career stages. They will be exchanged among participating institutions to carry out research&innovation tasks related to CRYSTAL3 objectives and acquire expertise and training in new skills that would not be available to them in their current settings. LEARN MORE ABOUT OUR FELLOWS (Fellow's blog coming out soon!)
UCD School of Biomedical and Biomolecuar Sciences
Conway Institute, University College Dublin, Belfield, Dublin 4, Ireland. E:
crystal3consortium@gmail.com