MENU holds regular activities for its members. If you would like to be added to the mailing list for upcoming events, please contact menu@ucd.ie. Events and coffee mornings are advertised in UCD Booking System and on the Staff E-Zine.
11th Feb 2022

Carnival Tradition in Brazil

4th Mar 2022

Ordinary women doing extraordinary things

25th March 2022

Peru, Multicultural Faces and a Cornucopia of Flavours

1st Apr 2022

Connections: 'UCD Languages for Life' and the Multilingual Campus

6th Apr 2022

Gamelan Music Workshop Live

14th April 2022

22nd Apr 2022

Dignity & Respect Service

6th May 2022

20th May 2022

22nd May

3rd Jun 2022

11th June

MENU on UCD Festival Live

17th Jun 2022

1st Jul 2022

4th July celebrations in US

13th December

Christmas Workshop: Arts & Crafts with RECREATE Ireland

20th January 2023

Moving towards sustainable diets with Dr. Aifiric O'Sullivan

26th January 2023

9th February 2023

22th February 2023

Joint event MENU + Purl Jam

14th April

Kazakhstan's environmental catastrophe: The vanishing Aral Sea with Saule Akhmetkaliyeva

20th April

MOMO – Nepal's Most Mouth-watering Delicacy with Puja Rauniyar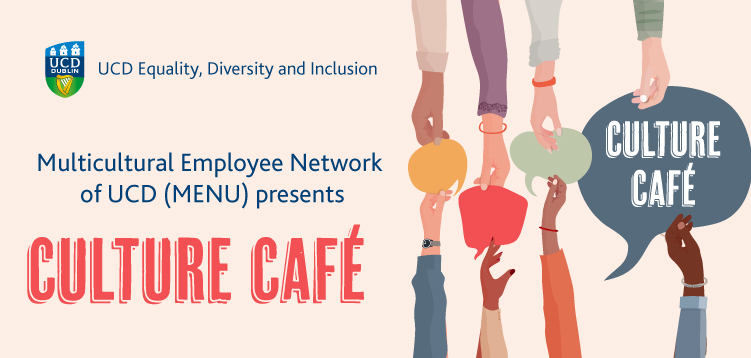 Previous Coffee Mornings and Events
MENU take part in 2021. MENU's presentation "Bridging Cultural Diversity through employee Networks
MENU launch Culture Cafe Series, January 2021
Irish Staycation Coffee morning, 31 July 2020
MENU launch Language Series, Summer 2020
MENU Multicutural Quiz took place on Friday 5 June, 11am
Virtual Coffee mornings will now take place on Fridays at 11am (every second week beginning 5 June)
MENU Mindfuliness Coffee Morning, 1 May (Workplace Wellbeing Day)
Virtual Coffee mornings on Thursdays at 10:30am beginning 26 March 2020
MENU was part of the Working Smarter Together Conference on 13th March 2019
MENU Coffee Morning on Wednesday 5th June 2019 in the Global Lounge
MENU was part of the UCD Festival on 8th June 2019
MENU held a summer event on 21st August 2019 - 'Last Pizza Summer'
Recreate Ireland-Social enterprise. On December 13th, 2022 our members designed their bespoke decorations with affordable and reusable materials
Stitching gifts from reusable materials with MENU member Ulyana
On Feb 2023 MENU and Purl Jam (UCD Craft Group) organized a joint activity as part of the Tempestry: Climate Change Scarf Project.