Posted: 21 September 2007
President McAleese launches new research findings on health status and health gain in Ireland
7-year research findings measure Irish health from 'womb to tomb'
The findings from a 7-year research programme involving almost 40,000 people ranging from women in early pregnancy, to children, to the elderly was officially launched by President Mary McAleese at University College Dublin on Thursday 20 September 2007.
The massive project conducted by the HRB Unit for Health Status and Health Gain involves 24 research papers published on 20 September 2007 in a special supplement by the Irish Medical Journal.
The research cover areas such as the dietary habits of pregnant women, the increased risk of eating disorders among Irish schoolchildren, the importance of interpersonal relationships as predictors of positive health among Irish pre-teens and teenagers, and the risk factors to health in grandparents.

"The social and cultural changes underway in Ireland today pose enormous challenges across a wide spectrum of state activity, in particular where the planning and delivery of health and personal social services are concerned. The findings of this report will help us deal with this rapidly changing environment," said the President of Ireland, Mary McAleese. "The best way to deal with change is to prepare well and the work of this Unit will serve us well in that area.'

Pictured at the offical launch of the research findings at University College Dublin (l-r): Prof Gerry Loftus, Dean of Medicine NUI Galway; Dr Hugh Brady, President of UCD; Prof Cecily Kelleher, Head of UCD School of Public Health & Population Science, Lead Researcher of HRB Unit for Health Status & Health Gain; President of Ireland, Mary McAleese; Professor Andrew Murphy, NUI Galway; Dr John Murphy, Editor of Irish Medical Journal;
Dr Mairead O'Driscoll, Health Research Board;
Prof Brian McKenna, Principal, UCD College of Life Sciences.
Funding for the project was provided by the Health Research Board in 1999 in order to provide empirical evidence on the actual state of the nation's health. The findings will be used to help formulate Government strategy on health needs and to monitor changes in health expectancy among the Irish population, in line with key strategic objectives outlined by the Department of Health and Children in the 1994 policy document "Shaping a Healthier Future and the subsequent "Quality and Fairness, a Health System for You" in 2001."
Before the HRB Unit was established there was very limited information available on the risk factors associated with ill health in the Irish population; particularly the social influences on those risk factors.
The comprehensive research findings announced today bring together information from 12 surveys comprising 39,837 respondents across all walks of Irish life and at different life stages. It provides, for the first time, actual longitudinal evidence that will help in the planning of Irish health services into the future.
The findings point to pockets of real disadvantage, especially in urban areas, and suggest that special policy effort must be made to reach the most disadvantaged groups and individuals in Irish society.
Mother and child health – investment in early development
As part of its work programme the Unit established a three generation family study called the "Lifeways Study" in 2001. This unique cross-generation study has over 3,500 family participants derived from 1,124 mothers who were recruited during early pregnancy.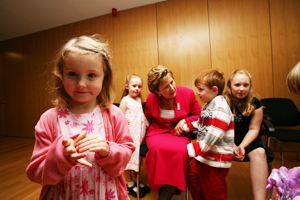 Children from the families involved in the "Lifeways Study" pictured with President of Ireland, Mary McAleese at UCD on 20 September 2007 (l-r): Hannah Holohan, Susan Carroll, Leon Murphy and Ciara Carroll.
"The findings show a clear need for more concerted policy interventions by the health, education and social welfare sectors to support mothers and their families at early life stages," says Prof Cecily Kelleher, Head of the UCD School of Public Health and Population Science, who led the research of the HRB Unit for Health Status and Health Gain.
"Investment at early life stages will pay great dividends in terms of future health benefits. The National Health Service in the United Kingdom has given this top priority and we also need to do so."
By capturing information over a 5 year period, the 'Lifeways Study' enabled the researchers to investigate several areas of mother and child health including: dietary habits of pregnant women in Ireland; risk factor profile of grandparents; pre-pregnancy maternal body mass index and infant birth weight; and primary care utilisation rates in pre-school children.
Socioeconomic differences in childhood primary care consultation rates had never before been examined in Ireland. The findings, from three years follow-up of over a thousand children show a strong inverse relationship between consultation rates in children and social class - higher utilisation rates among GMS (General Medical Service) cardholders.
"The ratio of consulting rates among Irish preschool children, for GMS (General Medical Service) to paying patients, is so much lower than for adults," explains Professor Andrew Murphy, Professor of General Practice at NUI Galway, one of the principal investigators in the research. "Although consulting rates do significantly decrease with income increments, the differences are relatively small."
"Policy and research perspectives suggest that all Irish pre-school children, irrespective of income level, should receive free primary care" he adds.
In relation to dietary habits, the research findings show that while a reasonably high percentage of pregnant women are achieving the recommended daily intake of fruit and vegetables as set by the Health Promotion Unit's Healthy Eating Guidelines based on the food pyramid, less than 50% achieve the remaining daily dietary recommendations.
According to the research, children of mothers with relatively higher fruit and vegetable intake and higher oily fish consumption are less likely to be effected by later childhood asthma (similar findings were produced in a recent study from the University of Crete).
"These preliminary findings suggest an important new avenue for research in preventing asthma" says Professor Cecily Kelleher, Head of the UCD School of Public Health and Population Science.

Peer influences and young people's health
The Unit also investigated the influence of peer groups and peer relationships on the health of young school going children by analysing data from the 2002 Irish Health Behaviour of School Going Children (HBSC),
"The findings suggest that by helping adolescents to build and maintain strong interpersonal relationships you are leading them to better health," says Dr Michal Molcho of NUI Galway, another of the principal investigators in the research. "The greater number of supportive relationships, the more positive the health of the adolescent."
According to the study, positive supporting relationships are critically important for child health, and particularly the role of parents. "Supporting parents in their relationships with their children will help to improve the health of the child," continues Dr Molcho.
The research also suggests that children who are most at risk from eating disorders are those children who are unhappy, who perceive themselves as not good looking, who have diet concerns, who are bullied more than twice per month, and feel that they are below average academically.
"While it is necessary to treat eating disorders, there must be a shift in focus to prevent the onset of the disorder," says Professor Fiona McNicholas, Professor Of Child & Adolescent Psychiatry, UCD School of Medicine and Medical Science, another principal investigator in the research.
"Introducing social, personal and health education into schools may go some way towards improving self-image and self-esteem among Irish school children," she continues. "But health professionals also need to play a role in preventing and detecting unhealthy eating attitudes and behaviours."

Area Issues, disadvantage and social capital
The work of the Unit also brings together, for the first time, several surveys which have assessed the relative influence of area disadvantage and social capital: the 2002 National Survey of Lifestyle Attitudes and Nutrition (SLAN), and the 2002 and 2005 European Social Survey.
"While being personally disadvantaged was the main influence on health status, the research clearly shows that this is compounded by the deterioration of social facilities and amenities in certain urban areas," says Professor Kelleher.
"All things being equal, people living in rural areas and older people reported better mental health than younger people" she adds.
"Policy measures to improve health in certain deprived communities are outside the specific area of health," explains Dr Michelle Millar from NUI Galway, who as part of the research programme consulted people in disadvantaged areas for their views on what was most needed to improve their quality of life. "Moves to tackle such deprivation require a more holistic policy approach," she says.
"Policy makers should heed the need to avoid ghettoisation and other poverty traps," explains Professor Kelleher.

Policy actions for specific groups
The recent work of the HRB Unit for Health Status and Health Gain also focused on discussing the value of targeting policy actions at specific groups to improve the health status of the Irish population. These groups highlighted were: children in early childhood, women, socio-economically disadvantaged groups and older people.
"Evidenced based policy drawn from research overwhelmingly supports investment in early childhood interventions," says Dr Dorren McMahon, UCD Geary Institute, commenting on the research. "Returns from early childhood investment include better outcomes in education and health, increased work productivity and reduced crime rates."
"Women in less well off socio-economic groups are at the greatest disadvantage with regard to health. They are at greater risk of developing poor health," says Geraldine Luddy, Director of the Women's Health Council. At present, the health of these women is compromised by lack of education, lack of information, and lack of awareness of factors that contribute to disease. "Specific policies must be developed to target this disadvantaged group."
"The principles of involvement, participation and community development are central to tackling health inequalities and current health policy reflects this," said Elaine Houlihan from the Combat Poverty Agency. "We need to increasingly involve the communities that are experiencing health inequalities in consultation and participation. This will give those individuals who are receiving the services more of a say in how they are planned and delivered."
"New opportunities for older people to maximize their capabilities in economic, social and civic life should be created and supported," says Professor Eamon O'Shea, Irish Centre for Social Gerontology at NUI Galway. "Health strategies must be developed in conjunction with the older people themselves and their advocates in a genuine spirit of partnership and intergenerational solidarity.