Posted: 05 December 2007
Make way for the Mummers
For some, Christmas is a time for children, for holly and mistletoe, for giving and receiving. For others, it's the season of Mumming, a centuries-old mid-winter tradition of folk drama that involves dressing in strange disguise costumes and sometimes performing a series of character roles in rhyme.
"Border-Crossing," a new book launched this week, examines the phenomenon of Mumming, which stretches from Newfoundland to Scandinavia to the UK and into Ireland where it still survives in the province of Ulster, the border counties, South Wexford and North County Dublin.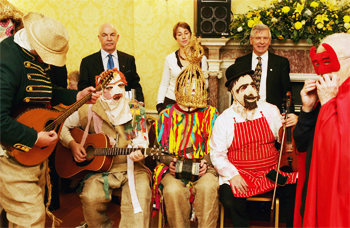 North County Dublin Mummers performing at the launch of the Border Crossings book in UCD's Newman House on Wednesday 28 November
For many people Mumming and Masking provides their first encounter with live theatre. Originally the "mummers" or "rhymers" would don their strange masks and call on houses where they felt their performance would be rewarded. Nowadays, they may be more likely to perform in local halls but the tradition of disguise and anonymity remains.
The mummers distort their voices as they present their short plays. "Mummers are no shrinking violets" explains Professor Séamas Ó Catháin, UCD School of Irish, Celtic Studies, Irish Folklore and Linguistics, one of the editors of the book. "The central feature of their performance is a joust with wooden swords – a duel between the two main characters: Prince (or Saint) Patrick (sometimes known as Turkish Champion) and Prince (or King) George. One of the combatants is cut down only to be restored to life by a doctor who, accompanied by much burlesque, administers a life-restoring postion."
Although the mumming tradition was present in Gaeltacht areas such as Donegal, the rhyming was largely carried out in English. Its strength there, as elsewhere, was that it crossed community divisions.
According to Anthony D. Buckley from the Ulster Folk and Transport Museum, another of the book's editors, "The mummers' play can be taken as a piece of theatre but it is better to see it as a comic, frivolous ritual which is sometimes serious and sometimes absurd. Sometimes the depiction is naturalistic and sometimes it invokes divine intervention."
Other characters distinguish Irish mumming. Jack Straw, for example, is the epitome of Irish folk drama. Dressed entirely in straw, his rhyme is occasionally a riddle and he is followed into combat by Green Knight, dressed in the Irish colours. "Green Knight is seen in modern versions of the play as representing the Irish, as opposed to the English interest, just as Prince or Saint Patrick (facing Prince or Saint George) does in the dramatic core of the play," Ó Catháin explains.
Over time, the nature of Christmas mumming and the structure and organisation of mumming groups has changed. And Críostóir Mac Cárthaigh from UCD, another of the books editors puts this down to growing urbanisation and rural depopulation which have, to some degree, weakened the bonds of rural communities. "Mumming groups no longer set out to visit all or most homes in their neighbourhood," he says. "At best nowadays they make a symbolic visit to just one or two private homes at the beginning or end of the Mumming season."
"In Northern Ireland police permits were introduced in the 1950s and groups had to notify the police of their planned itinerary. Most mumming performances are now organised social events in community halls, pubs and other venues."
Although not as widespread as it once was, mumming still thrives in Fingal and the North County Dublin Mummers preformed their own unique brand of rhyming at the launch of the Border Crossings book in UCD's Newman House on Wednesday, 28th November.
Edited by Anthony D. Buckley from the Ulster Folk and Transport Museum, Críostóir Mac Cárthaigh from UCD and Professor Séamas Ó Catháin from UCD, and Director of the National Folklore Collection, and Séamas Mac Mathúna, University of Ulster, the book published by Dundalgan press contains research from a wide body of folklorists who chronicle the past and present of the mumming tradition.
The work was funded by UCD Research, The National University of Ireland and the Northern Ireland Community Relations Council. The project benefited from funding provided by the Department of Foreign Affairs, Reconciliation Fund, and the Ireland Funds. The project from which it derives – 'Room to Rhyme' has also benefited from funding provided by the Department of Foreign Affairs, Foras na Gaeilge, Údarás na Gaeltachta and the Ulster Scots Agency in connection.