Posted: 17 December 2007I
UCD professor scoops commercialisation award
Professor Ciaran Regan has won the inaugural Enterprise Ireland Lifescience & Food Commercialisation Award. The Minister for Innovation and Policy, Michael Ahern TD presented the award at the Enterprise Ireland Next Wave Technology Showcase Event at University College Dublin on 13 December 2007.
Professor Regan, Professor of Neuropharmacology at UCD School of Biomolecular & Biomedical Science, and Co-ordinator of the Applied Neurotherapeutics Research Group, is a named inventor on 6 UCD patents. In 2004, he co-founded a successful UCD spin-out company called Berand Neuropharmacology which develops novel therapeutics for the treatment of autism and obesity. Berand is located in NovaUCD with research facilities based in the UCD Conway Institute.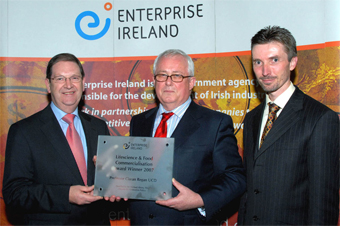 Pictured at the awards ceremony (l - r): Mr Micheal Ahern (TD Minister
for Innovation Policy), Professor Ciaran Regan and Dr Paul
Roben (Enterprise Ireland)
His outstanding achievements also include securing €10 million in funding from Wyeth Discovery and Science Foundation Ireland to establish the Applied Neurotherapeutics Research Group at UCD. The group, which aims to identify novel neurotherapeutic targets, has already generated 8 invention disclosures. This link was of critical importance in Wyeth's later decision to establish a €13 million bio-therapeutic drug discovery research facility at UCD.
"Professor Regan is to be congratulated on this success. He is a pioneer and a visionary in the field of commercialisation in Ireland and he continues to give his time, his energy and his expertise to further the goal of Ireland becoming a leading knowledge economy," said Minister Ahern presenting the award.
"He is an excellent role model and an inspiration for researchers all over Ireland who wish to see their intellectual property being developed for the benefit of the economy and society."
According to Dr Paul Roben, Director of Lifescience & Food Commercialisation at Enterprise Ireland, these showcase events play a crucial role in ensuring that companies are aware of the potential that exists for them in the third level research community.
The showcase event focused on the practical and commercial applications of 6 innovative technologies developed in Irish research institutions, which are ready for licensing to industry, or could lead to new company formation. Over one hundred investors, entrepreneurs, technology trend-watchers and researchers attended the event.
Technologies presented at the showcase included:
Dr. Gerry Mouzakitis, National University of Ireland, Cork
Gourmet Marine: Innovation in Aquaculture
Dr. Ian Hayes, Triskel Therapeutics Ltd. National University of Ireland, Galway, Developing improved anticancer TRAIL molecules through engineered receptor selectivity
Professor William Gallagher, University College Dublin, OncoMark: Helping to Bring Cancer Biomarkers to Clinical Reality
Professor Abhay Pandit, NCBES, National University of Ireland, Galway, Therapeutic applications of a natural biomaterial for tissue repair
Dr. Tony Killard, National Centre for Sensor Research, Dublin City University, Low cost, mass producible ammonia sensor
Professor Tim McGloughlin, Centre for Applied Biomedical, Engineering Research, Department of Mechanical and Aeronautical Enginering, University of Limerick, Innovations in Vascular Technologies