Posted: 18 December 2007I
Leading international researchers join UCD under the SFI Stokes Programme
With 9 Stokes Professorships and 7 Stokes Lectureships, UCD was the most successful institution in the SFI Stokes Programme awards announced by the Minister for Enterprise, Trade and Employment, Mr Micheál Martin TD. The programme is aimed at recruiting senior, world-class research academics as well as entry-level academics and senior post-doctoral researchers.
Among the Stokes Professors who will be taking up posts at UCD are Professor Gil Lee and Professor Matthias Wilm. Currently an Associate Professor in the Schools of Chemical and Biomedical Engineering at Purdue University, Indiana, Professor Gil Lee works in the emerging field of BioNanoTechnology. He and his collaborators study intra- and intermolecular forces in biological molecules that are responsible for the diverse structural and functional behavior of biological systems.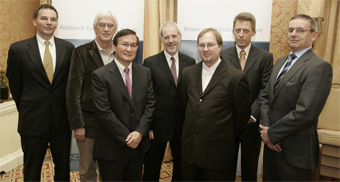 Pictured at the announcement were, from (l - r):Dr. Joachim Radler, Stokes Nominee for UCD; Gerry O'Sullivan, School of Physics, UCD; Dr. Gil Lee, Purdue University, USA and Stokes Professorship Nominee for UCD; Prof. Frank Gannon, Director General SFI; Andrew Phillips, UCD; Dr. Brian Vohnsen, Uni de Murcia, Spain and Stokes Lectureship Nominee for UCD and Earle Waghorne, School of Chemistry, UCD.
Professor Lee joins the UCD School of Chemistry and Chemical Biology to continue this work by starting new programmes to study forces in whole cells and develop novel lab-on-a-chip devices. Professor Lee's work will further develop the nanobiology programme at UCD, which was recently awarded a Strategic Research Cluster Award from SFI and a HEA PRTLI award to establish new laboratories in the UCD Science Centre.
The work of Professor Matthias Wilm, from the European Molecular Biology Laboratory (EMBL) in Heidelberg, Germany, will focus on systems biology that uses computer-based simulations to describe the overall behavior of complex biological systems and explain how modest changes in the system influence major events, such as a cell starting to divide or differentiate. Prof Wilm will join the UCD Conway Institute and establish a laboratory that can describe and quantify large numbers of proteins in a system.
It is in this context that Professor Wilm explains his research, "About seven years ago it became clear how proteins can be sequenced in a very sensitive way by mass spectrometers. This made biological material much more amenable to direct scientific investigation. Since then, the technology evolved from sequencing individual proteins, to groups of proteins, to high throughput protein sequencing. My group will harness the extraordinary power of mass spectrometers to sequence and quantify proteins on a large scale", he explains.
Under the Stokes Lectureships Programme, Dr Brian Vohnsen will move to UCD to pursue his research and teaching career. Brian's work in UCD will explore advanced optical techniques centred on high-resolution optical imaging. Such studies are needed to improve imaging and gain insight into how such structures interact and may be probed with light.

The Science Foundation Ireland Stokes Professorship and Lectureship Programme ("The Stokes") is designed to support the strategic recruitment of research-active faculty members. Established in 2007, Stokes provides Higher Education Institutes with greater flexibility in the strategic recruitment of key research personnel at multiple levels, thereby enabling Schools or Institutes to integrate quality research staff to the existing pool of expertise.
From the 2007 call, SFI will fund a total of 15 Stokes Professorships and 40 Stokes Lectureships. SFI will provide awards of €90,000 (Lectureships) and €180,000 (Professorships) per annum for the duration of the award.