Posted 14 May 2009
Nobel prize-winning scientist receives UCD Ulysses Medal
Professor Richard Ernst who received the Nobel Prize in Chemistry (1991) for his methodological developments within nuclear magnetic resonance (NMR) spectroscopy has been awarded the UCD Ulysses Medal in recognition of his global contribution to science.
As a result of Professor Ernst's scientific developments, which enabled a dramatic increase in both the sensitivity and the resolution of the instruments, NMR spectroscopy has possibly become the most important instrumental measuring technique in chemistry.
Today, NMR spectroscopy is used in almost every branch of chemistry in universities and industrial laboratories alike. It is also used in other sciences like physics, biology and medicine. The primary application of NMR is to determine molecular structure in solution. NMR is also used by chemists to investigate interactions between different molecules, to study molecular motion, to retrieve information on the rate of chemical reactions.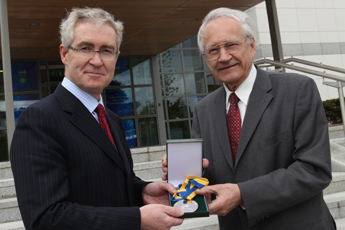 President of UCD, Dr Hugh Brady presents Prof Richard R Ernst with
the UCD Ulysses Medal
The growing importance of NMR to science is clearly recognized by the Nobel Committees in Stockholm. Eight Nobel Prizes have been awarded for achievements in NMR. Several Nobel Laureates who significantly contributed to NMR received their prizes for innovations in other fields.
After receiving the UCD Ulysses Medal from UCD President, Dr Hugh Brady, Professor Ernst delivered a special lecture to the meeting of Irish NMR at the UCD Conway Institute outlining the various contributions to NMR of those who have been honoured by a Nobel Prize and others who may have equally deserved to receive the honour.
Audio
Dr Chandralal Hewage, UCD School of Biomolecular & Biomedical Science introduces the lecture
Lecture by Nobel Laureate, Professor Richard Ernst
The UCD Ulysses Medal is the highest honour that University College Dublin can bestow. It was inaugurated in 2005, as part of the university's sesquicentennial celebrations, to highlight the 'creative brilliance' of UCD alumnus James Joyce. It is awarded to individuals whose work has made an outstanding global contribution.
Previous recipients of the Ulysses Medal include: Nobel economist, Professor James J. Heckman; Dr Phillip Sharp, Nobel Laureate; Professor Klaus Schwab, founder and executive chairman of the World Economic Forum; US Philosopher, Professor Hilary Putnam; and Stanford University's 10th President, Professor John L Hennessy.