Posted 30 November 2010
World-leading Mezzo-Soprano, Cecilia Bartoli honoured by UCD
In recognition of her contribution to musical performance and research, the world-leading mezzo-soprano, Cecilia Bartoli has been awarded the Honorary Degree of Doctor of Music from University College Dublin.
The honour was presented to coincide with Cecilia's performance of the Sacrificium Programme at the National Concert Hall.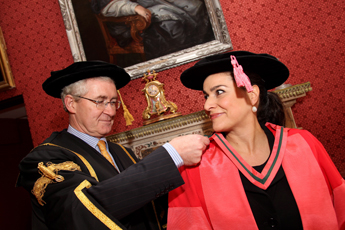 Cecilia Bartoli pictured with Dr Hugh Brady, President of UCD

"This honorary degree recognises Cecilia's remarkable contribution to musical performance and scholarly research," said UCD President, Dr Hugh Brady. "Her passion, dedication, and talent, has helped rekindle widespread audience interest in neglected composers and forgotten repertoire."
This is only the second time UCD has awarded an honorary degree of Doctor of Music. The previous recipient was pianist Alfred Brendel.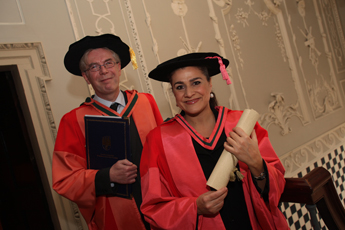 Prof Harry White, UCD School of Music with Cecilia Bartoli
With CD sales in excess of 8 million and more than 100 weeks ranking in the international pop charts, Bartoli is firmly established as the world's best selling classical artist. Her awards include four Grammys, nine Echos and a Bami (Germany), two Classical Brit Awards, the Victoire de la Musique (France) and the Léonie Sonning Music Prize, (Denmark). She has been endowed with the Italian Knighthood and is an "Accademico effettivo" of Santa Cecilia, Rome, a French Chevalier des Arts et des Lettres and Officier de l'Ordre du Mérite as well as an Honorary Member of the Royal Academy of Music, London.

The Sacrificium Programme sheds light on the world of the castrati of early 18th Century Naples, highlighting both its musical glories and poignant human tragedy.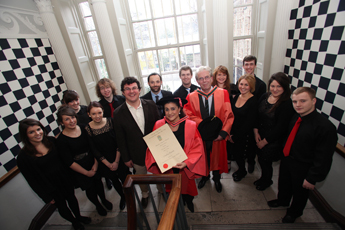 Cecilia Bartoli pictured at the award ceremony with the UCD Choral Scholars; Desmond Earley, Artistic Director, UCD Choral Scholars and Prof Harry White, UCD School of Music
In his citation to present Cecilia Bartoli to the University, Professor Harry White, UCD School of Music said: "She is, among much else, the master-intelligencer of Neapolitan, Roman and Venetian dramatic music of the early eighteenth century. She is the most persuasive advocate of the Italian Baroque which the contemporary world knows, and because of her artistry, her research, her instinctive originality and her intellectual curiosity, "the dark ages of opera", as this period once was described, are dark no more. Instead, Cecilia Bartoli's recordings have magnificently illuminated the rhetoric, passion and ceremony of the Italian Baroque. Quite literally, she breathes new life into old and hitherto forgotten music."
Castrati
Castrati were the undisputed 'rock stars' of their time: 17th and 18th Century Italy.
Every year, during this period, some estimates show 4,000 poor Italian families offered their choir-boy sons, from the age of eight upwards, for castration in return for potential financial reward, and the search for fame as opera singers and soloists with choirs in churches and royal palaces.
Although preventing the voice from breaking, castration did not guarantee that the voice was 'heavenly'. Most castrati never rose above the rank of choir-boy in church choirs, and many ended up in poverty.
Few families admitted to having their sons deliberately castrated for this purpose, and medical alibis were frequently given as explanations for the operation which, according to research, was often unsuccessful.
By 1870, the Italian government had banned such castration in the cause of art.
The most famous, and arguably the best, castrato was Carlo Broschi, "Farinelli" (1705-1782). The only surviving recording of a castrato singer is a recording of Alessandro Moreschi performing in the Vatican in 1904. He died in 1922.
(Produced by UCD University Relations)