Posted 14 December 2010
RTÉ donates cultural documents to UCD Archives
RTÉ and UCD have announced a partnership for the long-term preservation of the RTÉ Corporate Written Archives. These archives comprise a major repository of both corporate materials and documents of a national cultural importance. Some of the materials date to the 1920s and include a unique collection of primary source documents for research.
In all, the collection comprises approximately 1,200 Irish language radio scripts, 1,800 to 2,000 English language radio scripts and about 6,000 Radio Drama scripts, some of which are in manuscript form. It includes material from Samuel Beckett, Austin Clarke, Mary Lavin, Máirtín Ó Cadhain and many other distinguished Irish writers and commentators.
RTÉ said the collection constitutes a coherent and comprehensive account of the output of Radio Éireann between the 1940s and the early 1960s, and also offers insights into contemporary interest, opinion and preoccupation.
RTÉ said it now wishes to ensure the long-term preservation and access of the documents of unique national cultural importance.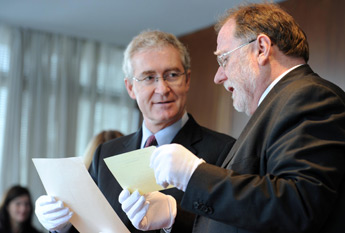 UCD President, Dr Hugh Brady, and RTÉ Director General, Cathal Goan, examine written correspondence between Samuel Beckett and Hilton Edwards in 1961. Edwards, then head of drama at Radio Éireann, invited Beckett to write for RTÉ television. Beckett turned down the invitation because he was "très unfamiliar with the television and its possibilities".
The partnership with the University, signed by RTÉ Director General, Cathal Goan, and UCD President, Dr Hugh Brady, means the UCD Archives will be the custodians of the RTÉ Collection of Cultural Documents.
"In many ways RTÉ has been, since its beginning, the keeper of our collective national memory. In the tapes, scripts and images lie the stories of how our country has changed across the 20th and 21st centuries," said RTÉ Director-General, Cathal Goan.
"For archives to be truly valuable they must not only be dynamic and but also accessible. It is for this reason that RTÉ has entered into this partnership with UCD to ensure that these important national cultural documents, in both Irish and English, can be maintained and accessible to all, free of charge, so as to help us better understand our past, present and future. "
"RTÉ is extremely grateful to our now retired Executive Archivist Brian Lynch for his unstinting efforts in collecting and preserving this material for posterity. Thanks to Brian's diligence this unique collection embodying Irish cultural heritage can now be safeguarded into the future and made available for countless researchers," he continued.
"RTÉ is delighted to enter into agreement with UCD to ensure that these materials will be made accessible to all. I hope this is the beginning of a very successful partnership."
RTÉ maintains and preserves the largest archive of Irish audio-visual material in the world.
(Produced by UCD University Relations)