Posted 02 September 2011
President to new graduates: Be part of the future of this great university and ambassadors for Ireland
UCD honorary degrees for leading figures in the Arts, agriculture, engineering and politics
Thousands of parents, families, friends, and supporters of UCD students visited the campus to see their loved ones receive their degrees from University College Dublin a week of graduation ceremonies.
-- The video which displays here may not be supported by your browser --
"We are all here to acknowledge how hard you have worked to gain this success," said UCD President, Dr Hugh Brady who presided over the conferring ceremonies.
"We are here to encourage you to put your UCD education to good use, to be ambitious for yourselves, and for your country, whatever country that may be, and to stay in touch, and be part of the future of this great university."
"As you go forward to take up influential roles in the Arts, government, business, and other walks of life, we would ask you to think about acting as mentors for future generations of UCD students, and provide them with work placements or internships," he said.
"We hope you have made fantastic friends here, most people who spend time at UCD do. And we urge you to use the UCD Alumni Association as a way of staying in touch not just with your Alma Mater but with each other."
"We very much want you to be part of the future of this great university, and to become ambassadors for UCD and for Ireland in the decades to come."
Several leading figures from the Arts, agriculture, engineering, and politics, stood alongside the newest UCD graduates to receive honorary degrees from the university in recognition of their remarkable achievements which serve as an inspiration for others.

Novelist, Emma Donoghue awarded an Honorary Doctorate of Literature (DLitt) from UCD
Her first novel Stir Fry appeared in 1994, and was followed in close succession by six further novels which have been translated into over forty languages and garnered numerous prizes.
In particular Room, her most recent novel, published in 2010, has been internationally celebrated; it was shortlisted for the Man Booker Prize and the Orange Prize and won the Hughes and Hughes Irish Novel of the Year, the Rogers Writers' Trust Fiction Prize, the Commonwealth Prize, and the Canadian Booksellers' Association Libris Award (for Fiction Book and Author of the Year).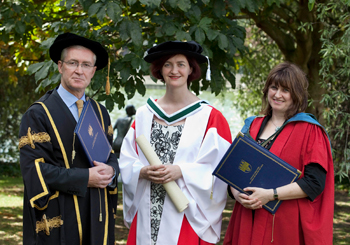 Dr Emma Donoghue (centre), pictured with UCD President, Dr Hugh Brady and Prof Anne Fogarty
In addition to her remarkable achievements as a novelist Emma Donoghue, who was born in Dublin and studied English and French in UCD, has proven her virtuosity in several other genres; she has produced three collections of short stories, four plays, and several radio plays and film scripts.
"Emma Donoghue is one of the most versatile and boldly original creative talents to have emerged in Ireland in recent decades," said Professor Anne Fogarty, UCD School of English Drama and Film, who delivered the citation.
"As the author of a dazzlingly varied body of fictional work, she has consistently invented beguiling characters and scenarios and pitched her readers into a wide array of imagined worlds...Her work makes ethical claims on us and urges us to consider other viewpoints and to embrace difference. "
Theatre director, Garry Hynes awarded an Honorary Doctorate of Literature (DLitt) from UCD
Garry Hynes has been Artistic Director of Druid Theatre Company from 1975 to 1991, and from 1995 to date. Between 1991 and 1994, she served as Artistic Director of the Abbey Theatre.
Apart from her work with Druid, Garry Hynes has directed nationally at both The Abbey and Gate Theatres, and internationally for the Royal Shakespeare Company, The Royal Exchange, Manchester, and London's Royal Court, in New York for Second Stage, Signature Theater and the Manhattan Theater Club, and in Washington D.C. for The Kennedy Center.
She has directed work by the likes of Tennessee Williams and Eugene O'Neill, and the premiere of a late work by the esteemed writer, Arthur Miller.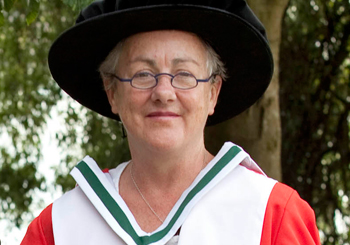 Theatre director, Dr Garry Hynes who was awarded an honorary doctorate by UCD
It is her work within the Irish tradition that has established her international reputation most.
"With Hynes's work there is always an extraordinary sense of vision, of understanding - vividness to the action, a commitment by the acting ensemble to precision and intensity and most of all to each other," said Dr Eamonn Jordan, UCD School of English, Drama and Film.
"Patrice Pavis talks about the significance of theatre director in terms of rhythm, and it is that sense of an intense rhythm which is one of the defining features of Hynes's work. The rhythm invites an audience in, attracts the spectator to pick up on the pulse of the performance and to engage with the work with the requisite and necessary awareness, attentiveness, commitment and imagination."
"In effect, what Hynes's productions achieve is a capacity to centralise the role of the spectator in the encounter that is the theatrical event."
Businessman, Brian Sweeney awarded an Honorary Doctorate of Science (DSc) from UCD
As managing director and later as chairman of SIEMENS Ireland, Brian Sweeney built the company into one Ireland's leading companies. He worked relentlessly to bring new business and new jobs to Ireland, and always placed a strong focus on young professionals.
He was the founding Chairman of The Irish Health Services Accreditation Board, the founding Chairman of The German-Irish Chamber of Industry and Commerce, of which he was subsequently elected President and presented with honorary life membership.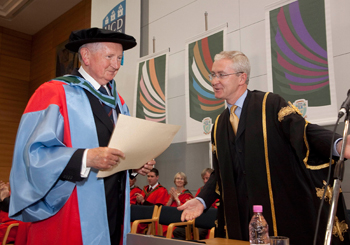 Dr Brian Sweeney recieving his honorary doctorate from UCD President, Dr Hugh Brady
He has served on the Board of Management of the Council of the RDS and was Chairman of the RDS Industry Committee. He is currently a Member of the Health Research Board and of the Board of Trinity College Institute of Neurology.
He led the profession of engineering in Ireland as President of the Institution of Engineers of Ireland. He is a Chartered Engineer, a Fellow of Engineers Ireland and a Fellow of the Irish Academy of Engineering. He was President of The Engineering Graduates Association of UCD and he also lectured Final Year Engineering students on marketing.
"Brian Sweeney is an extraordinary Irish engineer, businessman and industrialist – an engineer who has shaped the future of industry, business and educational research in Ireland," said UCD Professor Gerry Byrne, UCD College of Engineering and Architecture, who delivered the citation.
"He is an inspiration to our newest engineering graduates here today - our future innovators and leaders."

Businessman, Daniel Browne awarded an Honorary Doctorate of Science (DSc) from UCD
The pioneering work of Dan Browne and his colleagues at Moorepark was vital in transforming dairy farming of the sixties into the competitive and sophisticated business it is today, which is forecast to expand by 50% by 2020.
He not only developed the new science and technology, he also communicated it with enthusiasm and conviction to dairy farmers throughout Ireland. He is a long-serving member of the Agricultural Trust, publisher of the Irish Farmers Journal, an achievement which further emphasises his interest in effective communication.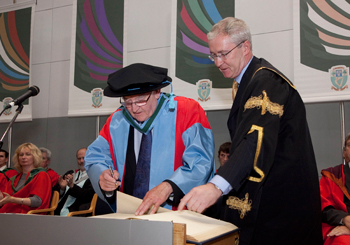 Dr Daniel Browne who was awarded an honorary doctorate signs the UCD register
He left the world of research and the Agricultural Research Institute, An Foras Talúntais or AFT (now known as Teagasc) in 1974, and joined the meat industry, becoming manager of the Cork Marts - IMP plant at Middleton.
In 1980, he set up Dawn Meats, a food processing company, with the Queally family in Waterford. He was managing director of the company, until 2007 and ended up taking ownership of his former employer, Cork Marts at Middleton.
Dawn also acquired Highland Meats, Scotland, Meadow Meats, Ballyhaunis, Ballaghaderreen and Charlieville meats.
Dan was one of the main shareholders in Dawn Meats, which has an estimated turnover of €900m for 2011 and employs 2700 staff. Dawn operates a graduate training programme with an average intake of 15 over the last 3 years. In 2011, 11 offers were made to UCD graduates, 8 of whom have already commenced work.
He was Chairman of the Board of Teagasc from 1993 to 1998, and Chairman of the board of An Bord Bia until April 2011.
"We honour Dan Browne for his vision, leadership, innovation and outstanding contribution to agricultural developments, particularly in relation to the meat industry and development of employment opportunities for graduates and others," said Professor Maurice Boland, UCD College of Agriculture, Food Science and Veterinary Medicine, who delivered the citation.
"We also honour Dan for his leadership as Chairman of several influential committees including the Board of Teagasc and an Bord Bia and for his wise counsel in the ongoing development and implementation of national strategy for the key indigenous agri-food sector."

Businessman, John Moloney awarded an Honorary Doctorate of Science (DSc) from UCD
In 1987 John Moloney joined Waterford Foods and held a number of senior management positions including Chief Executive of Food Ingredients and Agribusiness.
Ten years later, in 1997, Waterford Foods merged with Avonmore Foods and John Moloney was appointed to the Board. In 1999 the company renamed and rebranded its self as Glanbia. In 2000 he was appointed Deputy Group Managing Director and in 2001 he assumed the responsibilities of Chief Operating Officer. John Maloney is now recognised in Ireland as one of the country's leading food company chief executives.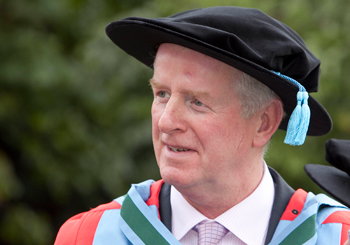 Dr John Moloney who was awarded an honorary doctorate by UCD
Under John Malony's stewardship Glanbia rationalised operations, sold businesses and cut costs. The company then went on to make acquisitions and form joint ventures. Now, Glanbia is a company with annual revenues of in excess of €2.5 billion employing over 4,300 staff worldwide with exports and distribution to at least 130 countries.
John Moloney is presently the Director of the Irish Dairy Board Co-operative Ltd, he is a member of the Board of Directors of the company DCC and is also a Council Member of IBEC (the Irish Business and Employers Confederation).
"We honour John Moloney for his leadership and innovation in the agriculture and food industry. He has shown vision, courage and success and is one of Irelands finest in terms of his contribution to agriculture, the employment opportunities that he has created and his entrepreneurial spirit and example to others," said Professor Alex Evans, UCD School of Agriculture and Food Science, who delivered the citation.
Speaker of the Senate of Canada, Senator Noel Kinsella awarded an Honorary Doctorate of Literature (DLitt) from UCD
Noël Kinsella fought for human rights legislation first at the provincial level, where he chaired the New Brunswick Human Rights Commission, at the national level where he was key in the drafting of the Canadian Charter of Rights and Freedoms, and on the international scene.
As an educator and a psychologist, Noel Kinsella promoted human rights through his teaching and his practice which were grounded in the theological and philosophical precepts he acquired at UCD and elsewhere.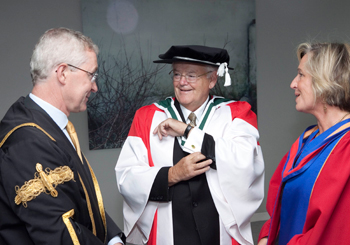 Dr Noel Kinsella (centre) pictured with UCD President, Dr Hugh Brady and Prof Jane Koustas
As a senior public servant, he championed minority rights in a different arena. Prior to his appointment, Speaker Kinsella was a senior public servant with the Secretary of State.
He was summoned to the Red Chamber, the upper house, for the province of New Brunswick in 1990 on the recommendation of the then Prime Minister, the Rt. Hon. Brian Mulroney. Since the modern Senate identifies itself as a champion of minority rights, this appointment could not have been more appropriate.
The Speaker has played a key parliamentary role in the Senate serving as the Whip, Deputy Leader and finally the elected Leader of the Conservatives when they were in Opposition from 1993 through 2006. Following the election that year, he was appointed Speaker on the recommendation of Prime Minister Harper.
He is also a Knight of the Most Venerable Order of the Hospital of St. John of Jerusalem, was as a member of the 112 Company, Royal Canadian Army Service Corps, an Army reserve unit based in New Brunswick, and is currently an Honorary Captain in the Canadian navy.
"It is with considerable pride that I participate in conferring this degree to a most worthy recipient in recognition of his lifelong commitment to human rights, to education and to civic duty," said Jane Koustas, Professor of Canadian Studies at UCD, who delivered the citation.
"It is a particular honour to present this award to Senator Kinsella in the year of the beatification of John Henry Newman [who established the university in 1854] whose work the Senator studied and admired."
"Like so many Irish Canadians, Speaker Kinsella has drawn on his Irish connection to build a stronger Canada whose contribution to human rights is a source of pride and inspiration."
Playwright, Marina Carr awarded an Honorary Doctorate of Literature (DLitt) from UCD
Marina Carr is Heimbold Professor of Irish Studies at Villanova University, Writer in Residence at the Abbey Theatre, and Adjunct Professor of Drama at Trinity College. She is the recipient of many awards including the American Ireland Fund Literary Award, the E.M. Forster Award, and the Susan Smith Blackburn Prize.
She was born in County Offaly, Ireland in 1964, and studied English and Philosophy at UCD. Her plays include: Low in the Dark and The Mai; Portia Coughlan; By the Bog of Cats; On Raftery's Hill; Woman and Scarecrow; Marble, and her latest work 16 Possible Glimpses.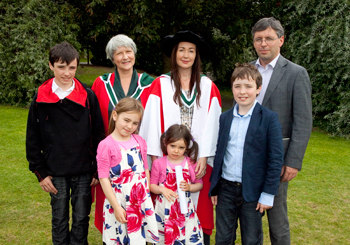 Dr Marina Carr (centre) pictured with her family and Dr Cathy Leeney
"Marina Carr is a playwright of genius, distinguished, accomplished, and fearless. A woman warrior, the power of her creativity has made theatre that is huge in its achievement, stunningly theatrical, and internationally recognised as remarkable," said Dr Cathy Leeney, UCD School of English, Drama and Film, who delivered the citation.
"The philosophical, emotional and poetic scale of her work shows audiences a world where life is intense, tragic, and hilarious; where the conversation between life and death spans the oily currents of the Styx: this is a bigger life. Her work is loved and admired by audiences and by theatre people. Her importance to students of theatre worldwide would be hard to underestimate."
"Marina Carr's luminous theatre points a way for all young playwrights and for young women in particular," she said.
(Produced by UCD University Relations)